Wild Blueberry Trifle
By Chef Christine Tizzard, Honest to Goodness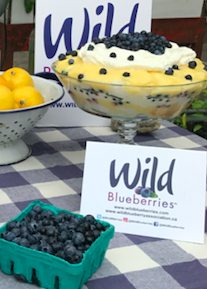 Ingredients
2 cups (500 ml) whipping cream (35%)
1/4 cup (60 ml) maple syrup
1 store-bought angel food cake, cut into 2-inch (5 cm) cubes, divided
3-4 cups (750-1000 ml) wild blueberries
Vanilla Bean Pudding:
1 vanilla bean, split lengthwise and scraped of seeds
2 cups (500 ml) unsweetened milk of choice
1/2 cup (125 ml) sugar
3 tbsp (45 ml) cornstarch
pinch salt
4 egg yolks
2 tbsp (30 ml) butter
Lemon Curd:
3 eggs
1/3 cup (80 ml) honey
1/2 cup (125 ml) fresh lemon juice, strained
pinch salt
1 tbsp (15 ml) lemon zest
6 tbsp (90 ml) butter, cut into 6 cubes
Optional garnishes:
Wild blueberries
A few sprigs of mint
Handful of slivered almonds
Crumbled amaretti cookies
Preparation
Vanilla Bean Pudding:
Scrape seeds from split vanilla bean using back of spoon or knife and add both bean and seeds to heavy bottomed saucepot. Pour over milk and place over medium heat until milk is steaming.  Turn off heat, cover and let steep for 10 minutes, infusing the vanilla into the milk as you would tea.
Meanwhile, whisk sugar, cornstarch and salt together in large bowl. Whisk in egg yolks to make thick pale-yellow paste.
After steeping for 10 minutes, remove vanilla pod from hot milk (wash well and set aside for another use). Very slowly ladle hot vanilla milk into egg mixture, while whisking constantly.
Rinse out saucepot but do not dry (the slight wetness helps prevent scorching in the next step). Return custard to saucepot and place over medium heat.  Stir with a heat resistant spatula or wooden spoon until mixture starts to thicken and barely reaches a boil, about 3-5 minutes.
Remove from heat and immediately pour through mesh strainer into a bowl. Whisk in butter until melted.
Once pastry cream has cooled slightly, cover with Saran wrap pressed against cream, creating a seal and preventing skin from forming. Refrigerate until set.
Lemon Curd:
In a medium sized saucepot, whisk together eggs, honey, lemon juice and salt. Place over medium heat and stir with a heatproof spatula, wooden spoon or whisk until the mixture starts steaming and thickens enough to coat the back of a spoon.  Turn off the heat, whisk in lemon zest and butter cubes until melted, about 1 minute.
Transfer curd into a bowl and place a layer of plastic wrap on the surface of the curd as it cools. This will prevent a skin from forming.
Serve warm or cold. Curd will thicken as it chills. Curd lasts up to 1 week in the fridge.
Wild Blueberry Trifle:
Whip cream with maple syrup to stiff peaks.  Set aside.
Layer trifle starting with a third of the cubed angel food cake on the bottom.  Spread cake with half of the vanilla pudding, a third of the wild blueberries and a third of the whipped cream.  For the second layer, use another third of the cubed cake, then spread out a layer of the lemon curd, a third of the wild blueberries and a third of the whipped cream.  For the last layer, finish off with the remaining cake, pudding, wild blueberries and whipped cream on top.
Store in the fridge up to 1 day ahead.  Garnish just before serving with wild blueberries, torn mint leaves, slivered almonds or crumbled amaretti cookies.

Wild Blue is Good for You!