Wild Blueberry Press Release
Blueberry Juice Tops The ORAC Antioxidant Chart
May 5, 2008
USDA Data Provides Antioxidant Values for Variety of Juices
PORTLAND, Maine—May 5, 2008—USDA's database of antioxidant values for various foods, places blueberry juice at the top of the list among more than a dozen juices tested including pomegranate, apple, prune, cranberry and Concord grape. Using the Oxygen Radical Absorption Capacity (ORAC) testing procedure, the gold standard of antioxidant measures for detecting the free-radical scavenging ability of foods, blueberry juice had the highest ORAC score of 2,906 umol TE/100g. The ORAC database (0.5MB PDF) was prepared by the USDA's Agricultural Research Service.
"A serving of 100% fruit juice is a healthy way to get one of your daily fruit servings," said Susan Davis, MS, RD, nutrition advisor to the Wild Blueberry Association of North America. "A glass of juice can be a refreshing, nutritious energy boost, but moderation of how much juice you drink is key. Control calories by making juice part of an overall healthy diet that includes many fruits and vegetables and balances carbohydrates, fats, protein, and fiber."
The USDA Dietary Guidelines for Americans recommends anywhere from 2 1/2 to 6 1/2 cups or 5 to 13 servings a day of colorful fruit and vegetables depending on age, gender and activity level. According to Davis, a 4-ounce glass of 100% fruit juice equals 1/2 cup of fruit and counts toward daily fruit serving goals. "Try fresh, frozen, canned, juice or dried, because all forms count when you're trying to add more fruits and vegetables into your diet. Make sure you get a colorful variety of fruits and vegetables, and when it comes to blue, eat at least 1/2 cup of Wild Blueberries or drink 4 ounces of Wild Blueberry juice every day," said Davis.
The ORAC assay has become the most referenced source of antioxidant values for food. Manufacturers of a wide range of food products highlight ORAC values of their products on labels and web sites to provide information and guidance to their customers on the sometimes confusing information emerging on dietary antioxidants.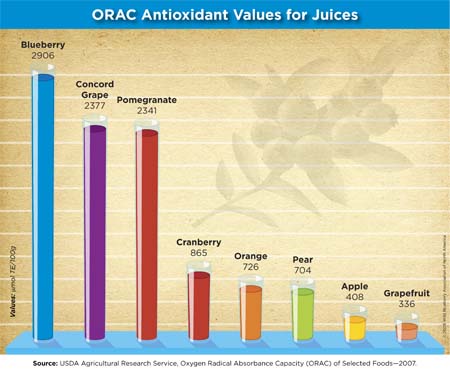 While the recent USDA data collection didn't specifically list ORAC results for Wild Blueberries or Wild Blueberry juice, versus just blueberry, previous USDA tests have shown Wild Blueberries outperform more than 20 other fruits in the ORAC test. A landmark study previously conducted by the USDA showed that a one-cup serving of Wild Blueberries had more antioxidant capacity than a serving of cranberries, strawberries, raspberries, apples and even cultivated blueberries. (Journal of Agricultural and Food Chemistry, 52:4026-4037, 2004.) Wild Blueberries are concentrated sources of protective natural compounds that have antioxidant and anti-inflammatory effects.
Wild Blueberry Association of North America
The Wild Blueberry Association of North America is a trade association of growers and processors of Wild Blueberries from Maine, dedicated to bringing the Wild Blueberry health story and unique Wild Advantages to consumers and the trade worldwide. To learn more about Wild Blueberries visit wildblueberries.com
SOURCE: Wild Blueberry Association of North America
CONTACT: Sue Till, SWARDLICK MARKETING GROUP, (207) 775-4100