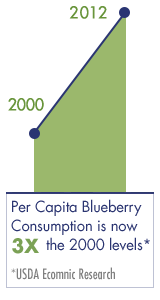 Discerning chefs, bakers and food professionals who use blueberries choose Wild Blueberries for their superior, potent blueberry taste – and their sweet, tiny size. Smaller Wild Blueberries are more compact and less watery than regular blueberries, and their tiny size means more than double the whole berries in every pound for better looking finished products. Unlike regular blueberries, Wild Blueberries better maintain their shape, deep blue color and intense blueberry taste throughout cooking, baking and a wide variety of manufacturing processes.
WILD BLUEBERRY SUPPLIERS from Canada and the U.S. are listed on our website. You can also check with your local broker or distributor. Remember, all blueberries are not alike! Choose the Wild Ones, and get more of the premium Wild Advantages you need to meet today's demand for tasty and healthy products.
More intense blueberry flavor
2x the antioxidants of regular blueberries
the perfect wild superfruit –10,000 years in the making
wild blueberry freshness 
and convenience – frozen right in!