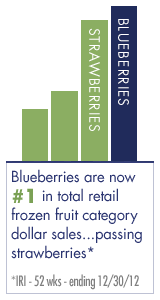 Wild Blueberries are superstars within the frozen-fruit segment of the retail marketplace. As demand for Wild Blueberries has soared, more and more major food shopping outlets are stocking premium Frozen Fresh Wild Blueberries in convenient consumer packages year-round.
Just as nutritious as fresh!
Frozen fruits and vegetables are just as healthy as fresh and may even retain their nutritional value longer — making Frozen Fresh Wild Blueberries a convenient choice for health-conscious shoppers.  In fact, Wild Blueberries have more of what shoppers love about blueberries.
More Anthocyanin Power
When asked what makes fruits and veggies healthy, over 80% of moms said "antioxidants."*  Frozen Fresh Wild Blueberries have 33% more anthocyanin than ordinary cultivated blueberries, giving shoppers more of what they're looking for.
*Gen X/Y Moms Study, Produce for Better Health Foundation, March 2011
More Taste
Frozen Fresh Wild Blueberries are a mix of intense sweet and tangy varieties that add a burst of flavor to baked goods, smoothies, salads and toppings. And because they're little, there are more delicious berries in every bite.
More Convenience
Easy and affordable, Frozen Fresh Wild Blueberries offer shoppers a convenient way to get more anthocyanins into their diets all year long.
More Satisfaction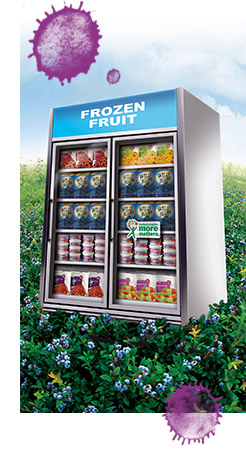 Compact Wild Blueberries freeze better than many other fruits, including cultivated blueberries. In baking, they maintain their quality, shape, color, taste and texture.
Go Wild in the Freezer Case
Stock the better blueberry in your supermarket frozen fruit section – Frozen Fresh Wild Blueberries: Frozen at the Peak of their Power. To Go Wild, contact our Canadian and U.S. Suppliers.