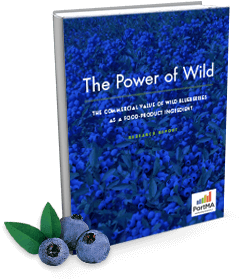 Including Wild Blueberries:
Increases purchase intent
Increases purchase volume
Increases price premium
Download The Full Report Now!
Consumers reported that they were more likely to buy, buy more, and pay more for wild blueberry products vs those with cultivated blueberries:
Higher Purchase Likelihood: Up to 69% more likely to buy
Greater Purchase Volume: Up to 73% would buy more
Price Premium: Up to 64% would pay more
---
See what top food marketers & trend watchers say about the power of Wild Blueberries.
---
Wild Blueberries improved taste, health, and sustainability perceptions over regular blueberries in every category tested.
There's a growing buzz about real foods that are as 'nature intended.' Unaltered ingredients enhance product appeal and help food formulators and brand managers connect brands to the 'Real Food' movement sweeping America.
Click below to get a taste of the research for your category:
"Local and organic are hot, but Wild is uniquely hot because there are not a lot of ingredients that can claim that."
– Tom Gumpel, Head Baker, Panera Bread
Wild Blueberries In Forms To Meet Your Needs!
Wholesale Wild Blueberries are available in bulk year-round in virtually any format you need including; frozen fresh, individually quick frozen (IQF), freeze dried, dehydrated, sugar infused, canned, concentrate, puree, powder, and extract. Fresh Wild Blueberries are available August through September.
New and innovative forms are continually emerging as part of the industry's ongoing R&D efforts. Contact a Wild Blueberry supplier in Canada or the U.S today!