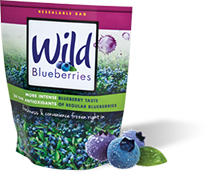 All blueberries are not alike! By nature, the little wild ones have more intense flavor, deep blue colour and more advantages than their regular cultivated cousins. So be sure you're getting the blueberriest blueberry: Frozen Fresh Wild Blueberries.
Frozen at the peak of their power
Wild Blueberries are frozen fresh within 24 hours of harvest, when their flavour and benefice are at their peak. In fact, tiny, potent wild ones contain less water than regular blueberries, so they freeze better than ordinary, larger blueberries. They also maintain their shape, color, flavor and nutritional value in cooking and baking. What's more, their smaller size means twice the berries – twice the benefits – in every bite.
The Nutritious (and Convenient) Superfruit
Frozen Fresh Wild Blueberries are easy to use right out of the freezer, making them a tasty and convenient way to get your anthocyanins!
According to the FDA, frozen Wild Blueberries are at least as nutritious as fresh berries. Since many regular blueberries are shipped thousands of miles after harvest, and wait around in warehouses for weeks prior to purchase, frozen Wild Blueberries may even retain their nutritional value longer.  They have other advantages, too:
4-season availability
Excellent value
The same anthocyanin goodness as fresh
Quick and easy preparation
Dependable quality, with no waste or spoiling
No added sugars or preservatives
Retain their taste, texture and shape in cooking
Not ordinary blueberries, Wild Blueberries
To be sure you're using authentic Wild Blueberries:
Look for the words "Wild Blueberries" on the front of the package
Check the list of ingredients on back for the word "Wild"
If all else fails, feel the berries in the bag. If they are small and "pea-sized," chances are you've got the wild ones.
Be sure you're buying Wild Blueberries with these tips from a professional baker: