Avocado Wild Blueberry Smoothie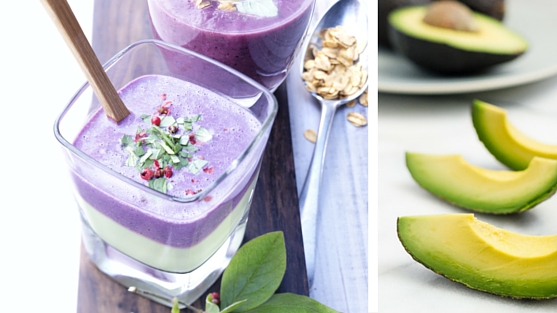 Ingredients
1 cup (250 ml) wild blueberries, frozen
1 ripe avocado
¾ cup (180 ml) low-fat, plain yogurt
½ of an organic lime's zest and juice
3 tbsp (45 ml) brown sugar
2 tbsp (30 ml) almond paste
¾ cup (180 ml) low-fat, plain yogurt
¼ cup (60 ml) 1% milk
Garnish:
Pink pepper berries, pounded and chopped mint
Preparation
Cut avocado into halves and remove pit. Spoon avocado meat from the skin and puree in blender with yogurt, lime zest and juice and 2 tablespoons of brown sugar.  Pour into glasses.
Puree almond paste, remaining sugar and milk, add frozen wild blueberries and blend until smooth. Carefully add to the avocado smoothie mixture so the layers are distinct.  Garnish with pink pepper berries and mint if desired.  Serve with a swizzle stick.
Preparation time:  approx. 15 min.
Serves 3
Nutrition
Calories:  300
Fat:  14 g
Cholesterol:  5 mg
Sodium:  85 mg
Carbohydrate:  38 g
Protein:  8 g
Fiber:  7 g

Wild Blue is Good for You!