Bacon-Wrapped Onions with Wild Blueberry and Cheese Filling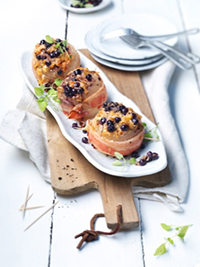 Ingredients
Ingredients for 8 servings:
8 large yellow onions, peeled, tops removed
8 slices of bacon, thinly sliced
1 tbsp (15 ml) olive oil
½ bunch rosemary, leaves picked, finely chopped, reserving a few stems for cooking
½ bunch thyme, leaves picked, finely chopped
1 clove garlic, minced
2/3 cup (150 ml) whipping cream
1 cup (250 ml) wild blueberries (frozen), defrosted, liquid strained
½ cup (125 ml) Parmesan cheese, finely grated
2/3 cup (150 ml) white wine, dry
1 bunch watercress, washed and dried
Salt and pepper
Preparation
Preheat oven to 400° F.
Remove cores from onions and finely dice.
Bring a pot of salted water to a boil. Add whole onions to pot, reduce heat to low and cook for 3-4 minutes. Remove onions from pot, drain on a tray lined with a kitchen towel and pat dry.
Season each onion with salt and pepper. Wrap each onion with a slice of bacon, secure with a toothpick and place in an even layer in an oven-safe baking dish.
Heat olive oil in a pan over medium heat. Add diced onions and herbs, season with salt and pepper, sauté until golden and tender.
Add garlic and cream to pan, mix together and reduce to a creamy consistency. Remove pan from stove, carefully fold in wild blueberries and cheese keeping berries whole. Once cheese has melted, pour cream mixture into center of onions.
Add wine and reserved rosemary to bottom of oven-safe dish. Bake for approximately 30 minutes until cheese is caramelized and bacon is crisp.
Remove onions from oven, garnish with watercress and serve.
Preparation time: approx. 35 minutes
Cooking time in the oven: 30 minutes
Nutrition
Energy: 190 kcal / 790 kJ
Protein: 6 g
Fat: 13 g
Carbohydrates: 9 g
Fiber: 3.2
Sodium: 1200 ml

Wild Blue is Good for You!