Baked Camembert with Wild Blueberry Chutney and Salad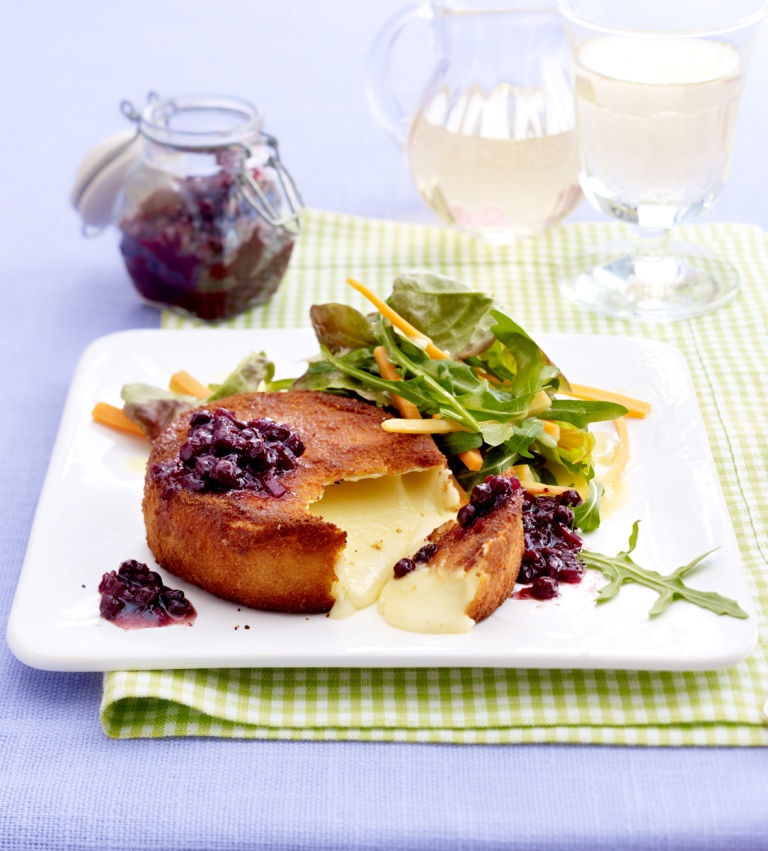 Ingredients
Wild blueberry Chutney
1 tbsp (15 ml) olive oil
1 medium red onion, diced
2 tbsp (30 ml) honey
2 tbsp (30 ml) light balsamic vinegar
3 cups (720 ml) frozen wild blueberries, strained and 2 tbsp juice reserved
Salt and pepper to taste
Balsamic vinaigrette and salad
1 small clove of garlic, finely chopped
1⁄2 tsp (2.5 ml) honey
1 tsp (5 ml) Dijon mustard
1⁄4 cup (60 ml) light balsamic vinegar
1 tbsp (15 ml) olive oil
Salt and pepper to taste
1 cup (approximately 90 g) baby arugula
1⁄2 head red lettuce, washed, dried and torn into bite size pieces
2 carrots, julienned
Baked Camembert
Approximately 2 cups (500 ml) vegetable oil for frying
4 tbsp (60 ml) flour
2 eggs, whisked
6–8 tbsp (90-120 ml) breadcrumbs
Salt
4 small wheels of Camembert cheese (each approximately 1⁄4 lb or 125 g)
Preparation
Wild blueberry Chutney
Heat oil in a pot over medium heat. Add onions, sweat until tender and translucent, approximately 10 minutes. Add 2 tablespoons of honey, mix to incorporate until onions are caramelized and golden, approximately 2 minutes.
Deglaze with balsamic vinegar and wild blueberry juice.
Stir in wild blueberries and simmer until mixture has reduced to a sauce consistency, 
approximately 8 minutes.
Season wild blueberry chutney with salt and pepper and remove from heat. Set aside to cool until serving.
Balsamic vinaigrette and salad
In a small bowl, mix garlic, honey, mustard and balsamic vinegar together. Season with salt and pepper.
Whisk in olive oil and set aside until assembly.
Place arugula, lettuce and carrots in a bowl and place in fridge until assembly.
Baked Camembert
Place the flour, eggs and breadcrumbs in individual, high-sided dishes.
Season flour with salt.
Heat oil in a non-stick sauté pan over medium-high heat. Line a tray with paper towel.
Dredge each wheel of Camembert, one at a time, in flour and shake off excess. Coat 
Camembert in egg wash, followed by breadcrumbs.
Gently place breaded Camembert in heated sauté pan. Once cheese is golden, 
approximately 2 minutes, flip and continue frying on other side until golden.
Remove baked Camembert from pan and place on paper towel lined tray.
Repeat process with remaining camembert.
Assembly:
Place each baked Camembert on a plate.
Dress salad with balsamic vinaigrette and arrange on each plate.
Spoon wild blueberry chutney over baked Camembert and serve immediately.

Wild Blue is Good for You!