Black Bean Burger with Brie and Wild Blueberry Chutney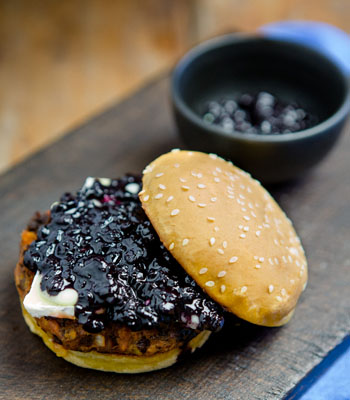 Ingredients
Wild Blueberry Chutney:
1/2 onion, finely diced
1 tbsp (15 ml) clarified butter
1 1/4 cup (315 ml) frozen wild blueberries
3 tbsp (45 ml) balsamic vinegar
1 tsp (10 ml) maple syrup
4 sprigs thyme
1 pinch cinnamon
salt and pepper
Black Bean Patties:
240 g black beans from a can (drained)
1/2 onion, finely diced
1 egg
2 tbsp (30 ml) tomato paste
1 tsp (10 ml) chipotle sauce (or chili sauce)
salt
2 tbsp (30 ml) panko (or bread crumbs)
1 tbsp (15 ml) clarified butter
Additional ingredients:
2 burger buns
1 tbsp (15 ml) clarified butter
100 g brie
Preparation
Wild Blueberry Chutney:
In a small pot, melt clarified butter and sauté diced onion for around 5 minutes until transparent.
Add wild blueberries and balsamic and bring to a boil.
Add the thyme and the pinch of cinnamon. Reduce temperature.
Salt lightly, pepper heavily and cook on low heat for 10-15 minutes until the mixture is reduced. Remove thyme.
Pour the chutney into a clean jar and cool.
Black Bean Patties:
Using a potato masher, mash the beans coarsely.
Knead in diced onion, tomato paste, chipotle sauce and salt. Stir in the panko.
Heat butter in a pan. With wet hands, shape the bean mixture into patties and fry in the pan on both sides until crisp.
Assembly:
In another pan, heat 1 tablespoon of butter. Slice the hamburger buns in half and place face down on the pan.  Cook until the surface is golden brown.
Put patties on the grilled hamburger buns. Top patties with sliced brie and wild blueberry chutney.  Serve immediately.
Nutrition
Nutritional value per serving:
Calories: 365
Protein: 16 g
Fat: 32 g
Carbohydrates: 59 g

Wild Blue is Good for You!