Wild Blueberry Buttermilk Bundt Cake with Cream Cheese Glaze
Preparation Time: 30 minutes
Cook Time: 1 hour 15 minutes
Serves: 10
This recipe is from nbwildblue.ca.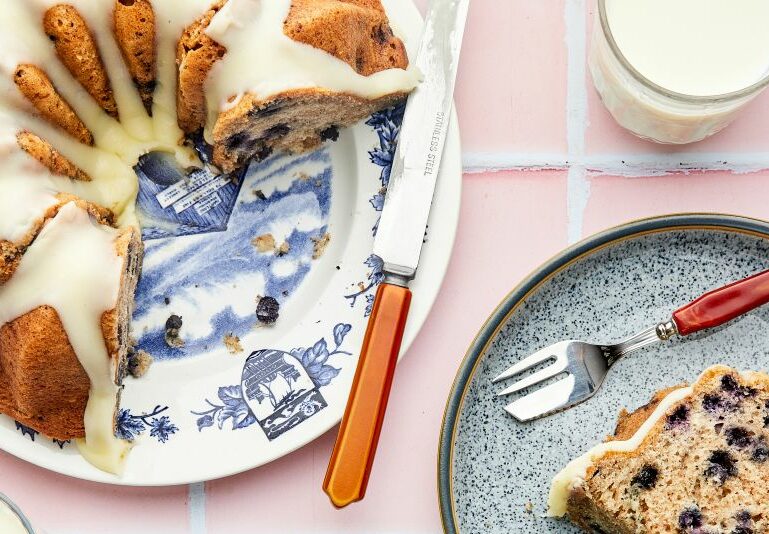 Ingredients
Blueberry Buttermilk Cake
1 3/4 cup (430 ml) buttermilk
1 cup (250 ml) sugar
1/3 cup (75 ml) melted butter
1/3 cup (75 ml) vegetable oil
3 large eggs
2 teaspoons (10 ml) vanilla
3 cups (750 ml) cake & pastry flour
1 tablespoon (15 ml) ground cinnamon
1 teaspoon (5 ml) baking powder
1 teaspoon (5 ml) baking soda
1 teaspoon (5 ml) salt
2 cups (500 ml) frozen wild blueberries
Cream Cheese Glaze
1/4 cup (60 ml) butter, room temperature
1/4 cup (60 ml) full-fat cream cheese, room temperature
1/4 teaspoon (1 ml) vanilla
1/8 teaspoon (0,5 ml) salt
1 cup (250 ml) powdered sugar, also called icing or confectioner's sugar
Preparation
Blueberry Buttermilk Cake
Preheat the oven to 350ºF (180ºC). Lightly spray a 10-cup non-stick Bundt pan with cooking spray. Set aside.
Place the buttermilk, sugar, melted butter, vegetable oil, eggs, and vanilla in a large mixing bowl. Use a hand or stand mixer to mix everything together until smooth.
Sift the flour into the bowl. Add the baking powder, baking soda, and salt. Mix on low until the flour is about halfway mixed in.
Switch to a wooden spoon or spatula. Add the frozen blueberries to the bowl. Gently fold the blueberries into the cake batter until the flour is just mixed in and the berries are well distributed.
Spoon the cake batter evenly into the prepared Bundt tin. Use an offset spatula or the back of a spoon to smooth the top of the batter evenly into the tin. Place the tin in the preheated oven and bake the cake for 57 to 60 minutes, or until the top springs back lightly when touched with a finger tip, and the cake is starting to pull away from the sides of the tin. Transfer the Bundt pan to a wire rack for 10 minutes before turning the cake out directly onto the rack. Cool completely before glazing.
Cream Cheese Glaze
Add the butter, cream cheese, vanilla, and salt to a small microwave-safe bowl. Sift in the powdered sugar. Microwave in 5 second bursts until you can mix the glaze together smoothly, and it has heated to a slightly pourable consistency. Pour the glaze over the cooled cake and save any extra for drizzling over slices.

Wild Blue is Good for You!