Blueberry cornmeal pancakes
By Bob Blumer, Flavorbomb.
Recipe taken from Eat North.
Yield: Serves 2
Prep Time: 5 minutes
Cook Time: 35 minutes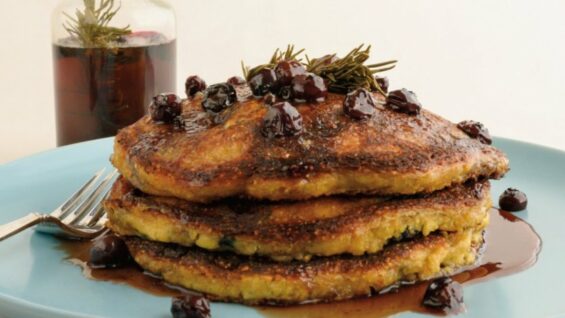 Ingredients
1/2 cup coarsely ground cornmeal
3/4 cup all-purpose flour
Preparation
In a large bowl, mix the cornmeal, flour, sugar, baking soda, baking powder, and salt.
In the large sauté pan you plan to make the pancakes in, melt 1½ tablespoons of the butter.
Add the melted butter to a second bowl along with the buttermilk and egg. Reserve the pan. Use a whisk to mix.
Slowly pour the wet ingredients into the dry ingredient bowl, using a rubber spatula to incorporate. Do not overmix. The batter should be thick and airy at the same time—but not too thick. The proportions of the flour and cornmeal to buttermilk in this recipe should get the batter very close to the desired thickness, but it may be necessary to add one or two additional tablespoons of flour or buttermilk. Use your instincts. Gently fold in two-thirds of the wild blueberries, and the zest. Let rest for 15 minutes. Bubbles should form in the batter.
Just before you start making the pancakes, in a  small pot over medium heat, add the maple syrup, balsamic vinegar, rosemary, remaining wild blueberries, and peppercorns. Bring to a high simmer, then reduce to a low simmer for about 5 minutes. Reserve.
In the pan you used to  melt the  butter, over medium/medium-high  heat, add 1 tablespoon of butter. If you have a second pan, set it up in the same way so  that you  can  work  both pans at the  same time to  cook all the  pancakes  at once. When the  butter is  sizzling, drop  in ¼-cup dollops of batter. Cook until bubbles form on top (after 2 minutes, sneak a peek under the pancakes and toggle the heat if  the  pancakes  are  blackening  before  bubbles start to form. Flip and continue cooking for about 90 seconds, or until browned on  the bottom and cooked through. Repeat with the remaining batter if necessary.
Top the pancakes with the warm syrup (leaving the peppercorns behind in the pot).

Wild Blue is Good for You!