Brownie Dominoes with Wild Blueberry Cinnamon Sauce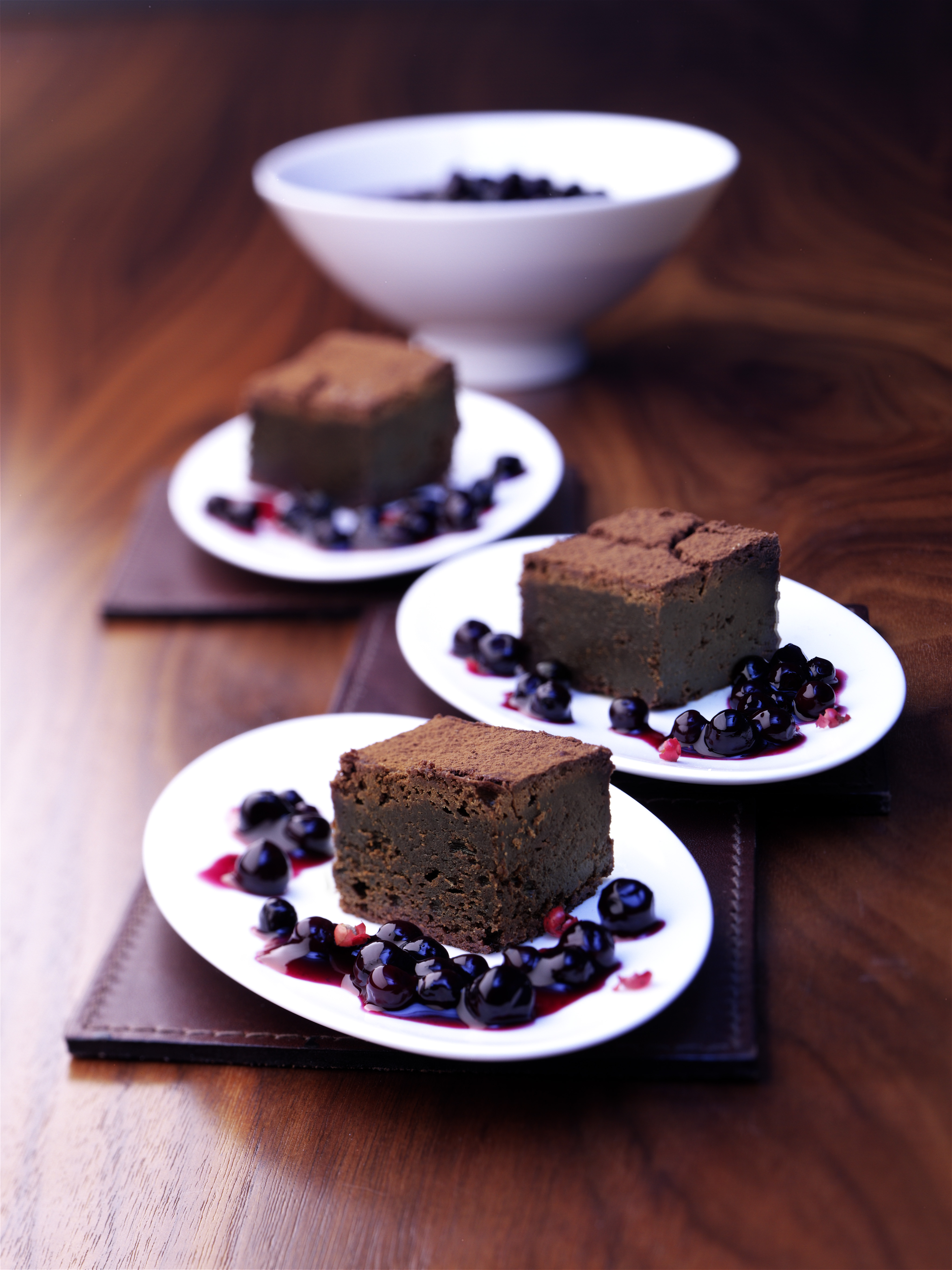 Ingredients
Dominoes
4 oz (150 g) unsweetened baking chocolate
¾ cup (30 g) butter
1 ¾ cup (50 g) white sugar
3 eggs
1 tsp (5 ml) vanilla extract
1 cup (125 g) all purpose flour
Wild blueberry cinnamon sauce
2 cups (300 g) frozen wild blueberries
½  cup (125 ml) water
¼  cup (50 g) sugar
1 tsp (5 ml) fresh lemon juice
2 tsp (10 ml) cornstarch
¼ tsp (1.25 ml) cinnamon
Garnish
1 tsp (5 ml) cocoa powder
Pink pepper
Preparation
Dominoes
Preheat oven to 350°F (180°C)
Microwave chocolate and butter for 2 minutes or melt in double boiler. Stir until chocolate is melted.  Stir in sugar, eggs, vanilla and flour until thoroughly blended.
Pour into greased 8 x 8 baking pan and bake 45 minutes or until cooked through. Let cool approx. 2 hours.
Wild blueberry cinnamon sauce
In a small sauce pan combine 1 cup (50 g) wild blueberries, ¼ cup (2 fl. oz.) water, sugar and lemon juice.  Stir and bring to a boil.  Turn heat down and simmer for 7 to 10 minutes.
Mix cornstarch into ¼ cup (2 fl. oz.) water until dissolved and add to the wild blueberry mixture; stir until it thickens, then add the remaining 1 cup of wild blueberries. Cook 3 minutes on low heat, add cinnamon.
Turn out the chocolate pastries from the baking tin. Cut it into 12 cubes and dust with cocoa powder. Serve with wild blueberry sauce and garnish with pink pepper.

Wild Blue is Good for You!