Chicken Nuggets with Wild Blueberry Catsup Sauce and French Fries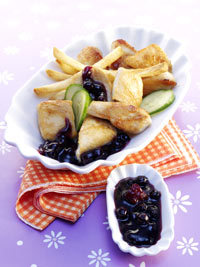 Ingredients
4 X ¼ lb chicken breasts
Salt
1 tbsp (15 ml) olive oil
1 mini cucumber
Sauce:
¼ lb (115 ml) cubed tinned tomatoes
2 ½ cup (625 ml) wild blueberries (fresh or frozen)
2 tsp (10 ml) brown sugar
3 tbsp (45 ml) flour
Pinch of salt and pizza spice
French Fries (ready-made)
Preparation
Cut chicken breasts into bite-sized pieces. Season with salt. Heat oil in a coated pan and fry chicken breast pieces until golden-brown. Wash cucumber and cut it into pieces.
 Whisk flour into tomatoes, wild blueberries (with juice, if frozen) and brown sugar until blended. Pour into a pot and bring to a boil while stirring. Reduce heat to simmer, approx. 5 minutes, until thickened. Season with salt and pizza spice.
 Prepare French Fries as directed on package. Serve chicken nuggets with catsup sauce and cucumber.
Serves 4
Preparation time: approx. 20 min.
Tip: Serve the sauce hot or cold.
Nutrition
Energy: 255 calories
Protein: 28 g
Fat: 5 g
Carbohydrates: 25 g

Wild Blue is Good for You!