My Coffee Shop Wild Blueberry and Raspberry Muffins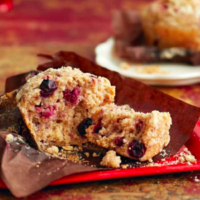 Ingredients
2 cups (500mL) spelt flour
2 cups (500mL) all-purpose flour
4 tsp (20 mL) baking powder
Pinch of salt
1 cup (250 mL) cane sugar
2 eggs
1 cup (250 mL) milk of choice
1 cup (150 mL) buttermilk or plain yogurt
1 lemon, zested
1 tsp (5 mL) pure vanilla extract
½ cup (160 mL) butter or coconut oil, melted and cooled
1 cup (250 mL) fresh or frozen wild blueberries
1 cup (250 mL) fresh or frozen raspberries
Preparation
Preheated oven to 375°F (190°C). Line or grease muffin trays.
Whisk together the flour, baking powder, and salt in a large bowl.
In a separate large bowl, whisk sugar with the eggs, milk, buttermilk or yogurt, lemon zest and vanilla.
Pour the wet ingredients into the dry and stir to combine.
Fold in melted butter or coconut oil.
Fold in wild blueberries and raspberries and portion into muffin trays, filling three-quarters full.
Bake for 20 minutes or until a cake tester comes out clean. Let cool 5 minutes then transfer to a cooling rack.

Wild Blue is Good for You!