Croissants with Wild Blueberry Apple Marmalade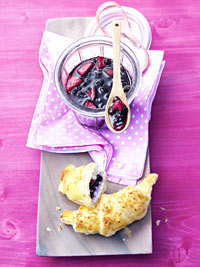 Ingredients
Ingredients for Wild Blueberry Apple Marmalade:
1 cup (250 ml) wild blueberries, frozen
1 cup (250 ml) wild blueberry jam
½ tart apple (large)
½ tsp (2 ml) cinnamon
1 pinch of fresh grated nutmeg
Ingredients for Croissants:
8 square pieces of frozen flaky pastry, approx 1 ½ oz each
1/3 cup (80 ml) cream cheese
3 tbsp (45 ml) dried coconut flakes
1 egg yolk to brush
2 tbsp (30 ml) of milk
Wild Blueberry Apple Marmalade
Preparation
 For marmalade: Stir together the frozen wild blueberries and jam in a small saucepan. Quarter, peel, and core the apple, then cut into small pieces. Add apples, cinnamon and nutmeg to the wild blueberries mixture. Cook about 5 min until apple is cooked slightly.
For croissants: Defrost flaky pastry and cut it into halves diagonally.
Stir together cream cheese and coconut flakes. Put one dollop of cream cheese and one large dollop of Wild Blueberry Apple Marmalade on the pastry, brush edges with water and roll up pastry to croissants.
Pre-heat oven to 425 F (225 C). Cover baking tray with parchment paper and place the croissants on tray. Whisk milk and egg yolk and brush the croissants with the mixture. Sprinkle croissants with the remaining coconut flakes and bake them for approximately 10-12 minutes.
Serves 8
Preparation time for Wild Blueberry Apple Marmalade: approx. 10 min.
Preparation time for Croissants: approx. 40 min.
Nutrition
Calories: 370
Fat: 24 g
Cholesterol: 35 mg
Sodium: 150 mg
Carbohydrate: 35 g
Protein: 5 g
Fiber: 1 g

Wild Blue is Good for You!