Fennel salad with wild blueberries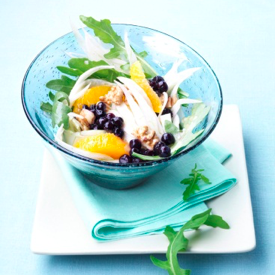 Ingredients
Fennel salad
3 bulbs of fennel, julienned
1 ½ cups (120 g) arugula
1 cup (150g) wild blueberries
3 oranges, segmented, juice reserved
½ cup (75g) walnut halves, coarsely chopped
Orange dressing
Reserved orange juice from fennel salad recipe
2-3 tablespoon (15-30ml) honey
¼ cup (60ml) fruit or red wine vinegar
¼ cup (60ml) olive oil
Salt
Pepper
Preparation
Orange dressing
Place all ingredients in a bowl, except for olive oil.
Gradually whisk olive oil in bowl until combined. Set aside until assembly.
Fennel salad
When ready to serve, place all ingredients in the same bowl as Orange Dressing.
Gently toss to combine and serve.

Wild Blue is Good for You!