Fiery Tacos with Wild Blueberry Salsa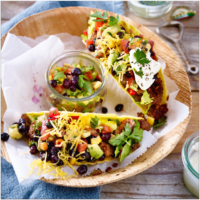 Ingredients
2 cups frozen wild blueberries
3 tomatoes, diced
2 red chili peppers
3 sprigs parsley, chopped
5 sprigs cilantro, chopped
1 avocado, diced
Zest of 1 organic lime
Juice of 1 organic lime
1 can (8 oz) corn, drained
Salt
1/2 lb. cheddar, finely grated
1 heart of romaine lettuce, finely sliced
2 tbsp. sunflower oil
1 lb. ground beef
Freshly ground pepper to taste
1 tsp. sweet paprika
8 taco shells
8 tsp. crème fraîche
Preparation
Defrost wild blueberries.
Cut open the chili peppers lengthwise, remove the seeds and slice into rings.
In a medium sized bowl, combine blueberries, tomatoes, chili rings, herbs, avocado, lime zest and juice. Season with salt to taste.
In large fry pan over medium heat, add oil. Fry ground beef until browned and season with salt, pepper and paprika.
Fill each taco shell with ground beef, lettuce and blueberry salsa. Sprinkle with shredded cheese and top with a dollop of crème fraîche.

Wild Blue is Good for You!