Gluten Free Wild Blueberry Kefir Muffins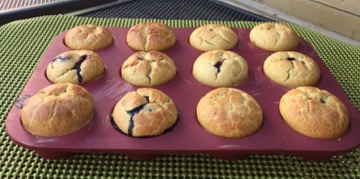 Ingredients
1 ¼ cups (300 ml) sheep's milk kefir
1 cup (250 ml) ripe banana, puréed
1 large egg
1/2 cup (120 ml) olive oil
1 cup (250 ml) wild blueberries
zest of 1 lemon
2 cups (500 ml) gluten free flour
1 tsp (5 ml) baking powder
1 tsp (5 ml) vanilla extract
pinch of salt
Preparation
Preheat oven to 350°F (180°C).
Purée ripe banana.
Mix dry ingredients in a large bowl.  Mix wet ingredients separately.
Slowly incorporate wet ingredients into dry, whisking until smooth.
Add wild blueberries to the mixture until evenly distributed.
Line muffin tins with holders or line with coconut oil before pouring in your mixture.
Bake for approximately 30 minutes, until toothpick comes out dry.

Wild Blue is Good for You!