Ham Sandwich with Wild Blueberry Mustard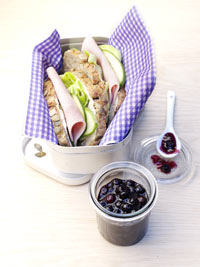 Ingredients
1 tbsp (15 ml) low fat cream cheese
Pinch of paprika
2 slices pumpkin seed or mixed-grain bread
½ mini cucumber, sliced (about ¼ cup slices)
2 lettuce leaves
¼ cup sliced ham
2 tbsp (30 ml) fig or orange mustard
⅓ cup (80 ml) wild blueberries (fresh or frozen)
Preparation
With a spoon, mix cream cheese with paprika; spread mixture on bread. Place salad leaves, cucumber slices and ham atop one slice of bread. Cover with the second slice of bread. Cut sandwich into halves.
Stir fig or orange mustard with wild blueberries. Pack the mixture into a separate container. Spoon the blueberry mustard on the sandwich and enjoy at a picnic or at the office for lunch.
Serves 1
Preparation time: approx. 10 min.
Nutrition
Calories: 347
Protein: 19 g
Carbohydrates: 37 g
Fat: 16 g
Cholesterol: 47 mg
Sodium: 1,803 mg

Wild Blue is Good for You!