Kid-Friendly Quinoa Tabbouleh Salad with Wild Blueberries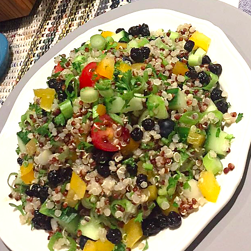 Ingredients
½ cup (125 mL) uncooked quinoa (or 1 ½ cups/375 mL leftover cooked quinoa)
2 Tbsp (30 mL) extra virgin olive oil
2 Tbsp (30 mL) lemon juice (or to taste)
1/8 tsp (0.5 mL) ground allspice
Salt to taste
Pepper to taste
2 green onions, finely sliced
½ red, orange or yellow pepper, diced into small pieces
½ cup (125 mL) grape or cherry tomatoes, cut in half or quartered
1 cup (250 mL) cucumber, seeded and diced into small pieces
½ cup (125 mL) finely chopped curly parsley
½ cup fresh or frozen wild blueberries
Preparation
Prepare quinoa according to the instructions on the package (or use leftover quinoa).
Whisk together a simple vinaigrette in a small bowl with olive oil, lemon juice, allspice, salt and pepper.
In a large bowl, combine all remaining ingredients. Gently fold in the cooled quinoa. Pour over vinaigrette, toss, taste and adjust seasoning.

Wild Blue is Good for You!