Lentil Salad with Wild Blueberry Dressing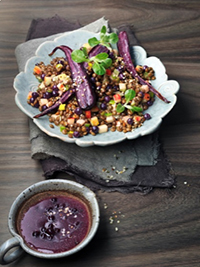 Ingredients
Roasted Carrots:
2 ¼ lb multicoloured carrots, peeled, halved length-wise, quartered length wise for larger carrots
2 tbsp (30 ml) olive oil
Zest and juice of 1 lemon
Pinch of sugar
Salt and pepper to taste
Wild Blueberry Dressing:
¼ cup (60 ml) brown sugar
1/3 cup (80 ml) cider vinegar
1/3 cup (80 ml) wild blueberry juice
¾ cup (180 ml) wild blueberries (defrosted), strained
Salt and pepper to taste
Lentil Salad:
2 tbsp (30 ml) olive oil
1 cup (250 ml) leeks, diced
1 ½ cups (375 ml) lentils, rinsed
2 cups (500 ml) vegetable stock
1 bay leaf
Wild Blueberry Dressing:
1 cup (250 ml) tart apples, diced
1 cup (250 ml) pea shoots
¼ cup (60 ml) hemp seeds, toasted
Salt and pepper to taste
Preparation
Roasted Carrots:
Preheat oven to 350 °F and line a baking tray with parchment paper.
Place carrots on baking tray. Add olive oil, lemon juice and zest to carrots. Season with sugar, salt and pepper. Toss to coat and place carrots in one even layer.
Roast in oven until slightly tender and caramelized. Approximately, 25-30 minutes. Set aside until assembly.
Wild Blueberry Dressing:
Place all ingredients, except wild blueberries in a pot, whisk and bring to a boil until sugar dissolves. Add wild blueberries. Set aside until serving.
Lentil Salad:
Heat olive oil in a pot over medium heat. Add leeks, season with salt and pepper. Sauté until tender, approximately, 10 minutes.
Add lentils and bay leaf to pot. Mix to combine. Deglaze with vegetable stock, bring to a boil, and reduce to a simmer until lentils are cooked, approximately 15 minutes.
Add warm wild blueberry dressing to cooked lentils, mix to combine. Toss lentils with apples, pea shoots and toasted hemp seeds. Place on a platter with roasted carrots and serve.
Preparation time: approx. 35 minutes
Cooking time in the oven: 40 minutes
Nutrition
Energy: 620 kcal / 2600 kJ
Protein: 21 g
Fat: 31 g
Carbohydrates: 68 g
Sodium: 400 mg
Fiber: 17 g

Wild Blue is Good for You!