Lentil Sweet Potato Pancakes with Wild Blueberry Cream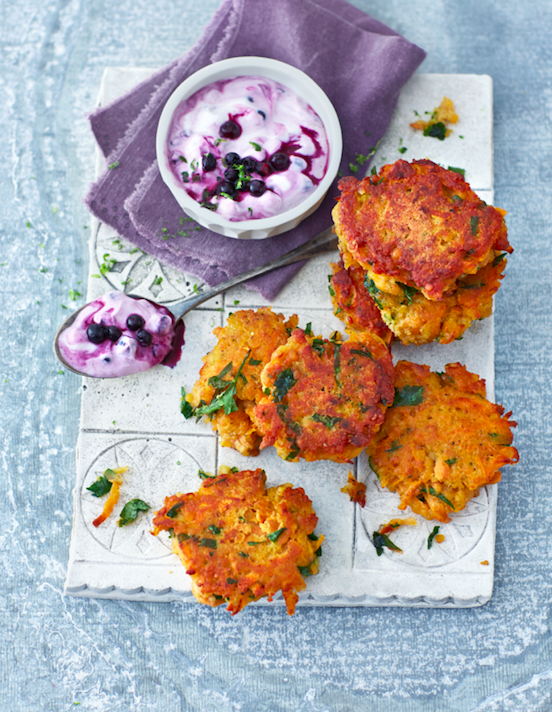 Ingredients
1 cup (250 ml) frozen wild blueberries
1/2 cup (125 ml) red lentils
1 sweet potato
A few sprigs of parsley
2 organic eggs
1/3 cup (80 ml) whole-grain spelt flour
3 tbsp (45 ml) bread crumbs
Salt
Freshly ground pepper
½ tsp (5 ml) dried thyme
4 tbsp (60 ml) canola oil
8 oz (225 g) full-fat cream cheese
Juice and zest of 1/2 organic lime
Preparation
Defrost wild blueberries.  Cook lentils in 1 cup water for about 15 minutes until soft and let cool.  Peel, wash and grate sweet potato.   Rinse, dry and chop parsley.  Mix lentils with sweet potato, eggs, flour, bread crumbs and parsley.  Season with salt, pepper and thyme.
Heat the oil in a large pan.  Using a tablespoon, put small scoops of the mixture in the pan and gently press them flat.  Make 12 pancakes, frying until golden brown and flipping as needed.  Remove from pan and set on paper towels.
Stir 4 tbsp water, lime juice and zest into the cream cheese until smooth; if needed, add more water tablespoon by tablespoon.  Fold the wild blueberries into the cream cheese.  Serve with the pancakes.
Nutrition
Calories: 470
Protein: 20 g
Fat: 22 g
Carbohydrates: 43 g

Wild Blue is Good for You!