Maple-glazed cedar-plank salmon with wild Canadian blueberry salsa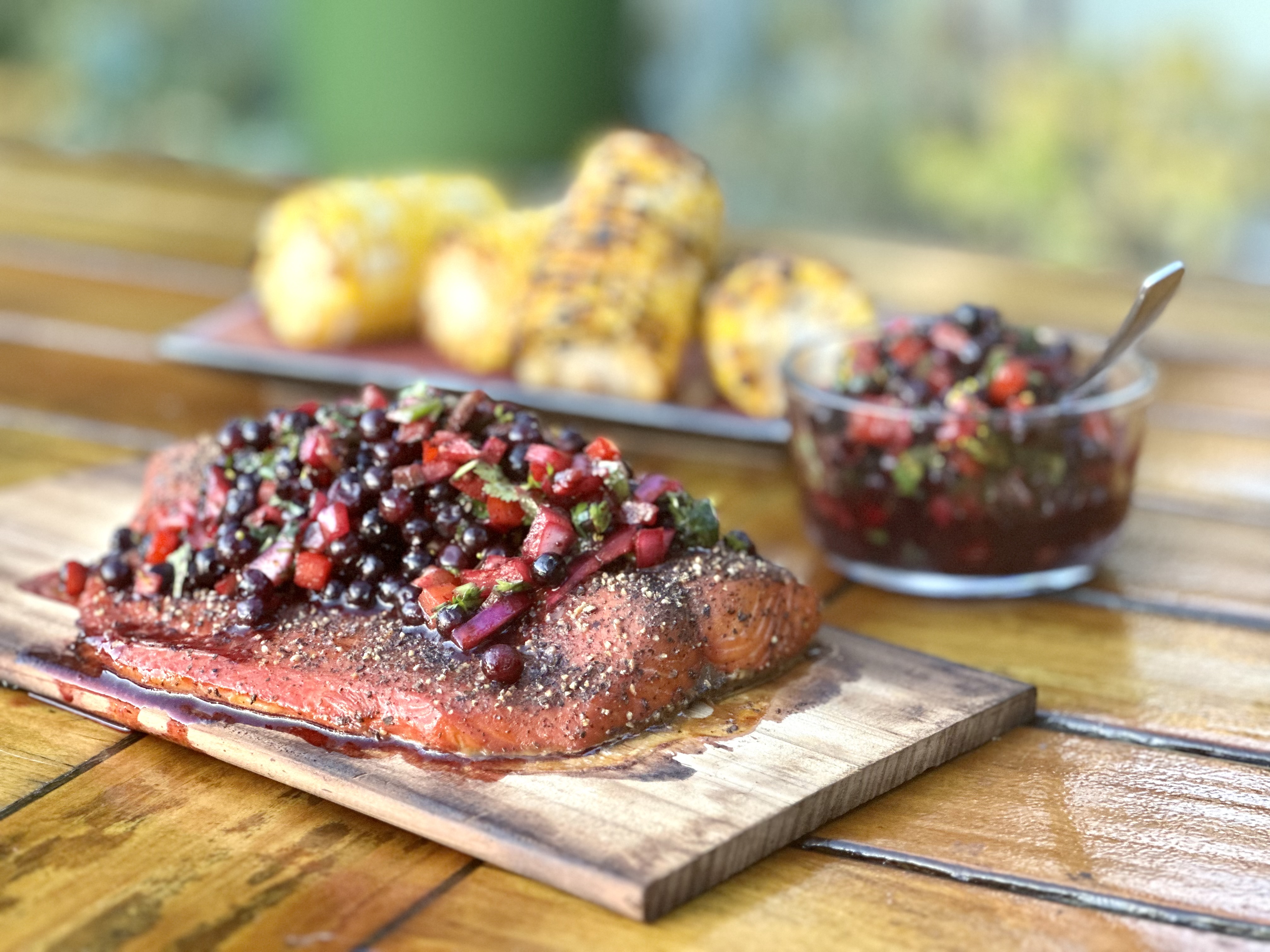 Ingredients
For the salmon
1 600gm side of wild Canadian salmon (ideally sockeye), or four 150gm fillets, skin removed
1 cup maple syrup
1/3 cup soy sauce
2 teaspoons coarsely ground black pepper
1 large resealable plastic bag
1 food-grade cedar plank, approximately 30cm x 15cm
1 sheet aluminum foil
For the salsa
1 cup wild Canadian blueberries (fresh or frozen)
1/2 jalapeno, or to taste, diced finely
1/2 red bell pepper, diced finely
1/4 cup diced red onion
1 palmful cilantro leaves (or mint for cilantro-phobes), chopped coarsely
2 tablespoons freshly squeezed lime juice
2 tablespoons olive oil
A pinch of salt and pepper
Preparation
Soak cedar plank in water for 1 hour
Add salmon to a resealable plastic bag along with maple syrup and soy sauce. Squeeze out air and refrigerate from a minimum of 4 hours, but ideally for 24 hours.
In a medium bowl, combine all salsa ingredients. Use the back of a spoon to mash some of the blueberries to release their juices. Reserve.
When you are ready to grill, preheat grill to medium-low. When grill temp reaches about 300°F, set cedar plank on the grate in the center of the grill, close the lid and let plank "toast" for 7 – 10 minutes, or until nicely toasted, but not charred. Smells of a sauna may ensue, and plank may snap, crackle and pop like Rice Krispies.
Remove salmon from marinade, set on a plate and sprinkle with black pepper.
Flip plank. Place salmon in the center of the plank and return to the center of the grill. Reconfigure burners to indirect heat (outer burners on high, inner burners directly underneath the plank in "off" position). Close lid and grill for approximately 12 – 20 minutes, or until the center of the fish reads 125°F on an instant-read thermometer—or until salmon is cooked to your desired degree of doneness (noting that it will continue to cook slightly after it is removed from the grill). Actual grilling time will depend on the thickness of the fish and the actual grill temperature, so keep an eye on it.
Remove plank from grill and lightly tent the salmon with a piece of aluminum foil. Let rest for 5 minutes. Remove foil, spoon wild Canadian blueberry salsa overtop salmon and serve on the plank.
Yield: 4 servings

Wild Blue is Good for You!