Mason Jar Wild Blueberry Cheesecake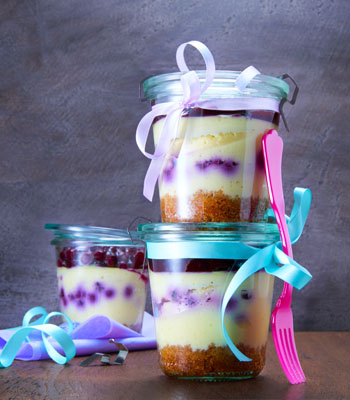 Ingredients
8 graham crackers (approx. 120 g)
6 tbsp (90 ml) butter
butter for greasing
3 medium sized eggs
1/2 cup (125 ml) sugar
juice and zest of one lemon
two 8 oz packages (400 g) full-fat cream cheese
1/2 cup (125 ml) sour cream
2 tbsp (30 ml) cornstarch, separated
1 3/4 cups (440 ml) frozen wild blueberries, separated
2 tbsp (30 ml) sugar
3/4 cup (190 ml) berry jam of choice (ex. Black currant)
Preparation
Put cookies in re-sealable plastic bag and crush with a rolling pin. Melt butter and stir in cookie crumbs.
Preheat the oven to 300° F (150° C). Lightly grease the insides of the jars with butter.  Distribute cookie crumbs among the jars and, using a teaspoon, press firmly into the bottoms of the jars.
Using a mixer, beat the eggs and sugar until frothy. Add the lemon zest and peel, cream cheese, sour cream and 1 tbsp (15 ml) cornstarch and blend until smooth.  Put a layer of cream on the cookie crumbs and alternate with additional layers of wild blueberries, using approx. 1 1/4 cup (315 ml) of the wild blueberries ending with a layer of cream on top.
Put jars on a deep cookie sheet. Carefully fill cookie sheet halfway with boiling water.  Place cookie sheet on the middle rack and bake for 35-40 minutes.  Remove jars from cookie sheet carefully and place on a rack to cool.
Defrost and drain remaining 1/2 cup (125 ml) wild blueberries, reserving the juice. Mix cornstarch with 3 tbsp of wild blueberry juice until smooth.  Put remaining juice in a pan with sugar and jam.  Add the cornstarch slurry, bring to a boil and add the wild blueberries.  Allow to cool and pour over the cheesecakes.
Nutrition
Calories: 2332
Protein: 11 g
Fat: 36 g
Carbohydrates: 49 g

Wild Blue is Good for You!