Mini Wild Blueberry Cakes with Vanilla Icing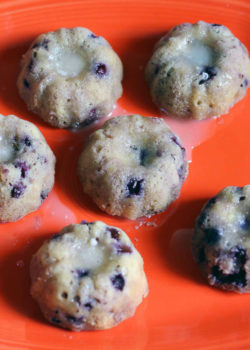 Ingredients
1 ½ cups cake flour (or all-purpose flour)
1 tsp baking powder
½ tsp kosher salt
½ cup butter, melted
½ cup + 1 TBS + 2 ¼ teaspoons low-fat milk, divided
1 ½ cups maple syrup
2 eggs, beaten
2 ½ tsp vanilla extract, divided
1 cup plain low-fat Greek yogurt
1 ¼ cups frozen wild blueberries
Spray oil
½ cup powdered sugar
Preparation
Preheat oven to 350° Fahrenheit.
In a medium mixing bowl, mix flour, baking powder, and salt.
In another medium mixing bowl, combine butter, maple syrup, ½ cup milk, eggs, 2 teaspoons vanilla extract, and yogurt.
Add flour mixture to wet mixture, stirring gently. Fold in wild blueberries.
Coat mini Bundt cake tray with spray oil; then spoon batter into tray, filling about three fourths of the way full.
Bake for about 15 to 18 minutes, until cooked through.
Meanwhile, in a small bowl, combine powdered sugar with remaining milk and vanilla extract.
Once mini cakes have cooled in the pan, transfer to a wire rack to cool completely.
Spoon icing over mini cakes once they're mostly cooled. Enjoy!

Wild Blue is Good for You!