Mix-in-the-Pan Wild Blueberry Snack Cake
Recipe by Katie Sullivan Morford, MS, RD of Mom's Kitchen Handbook
Serves: 12 pieces (16 pieces for smaller appetites)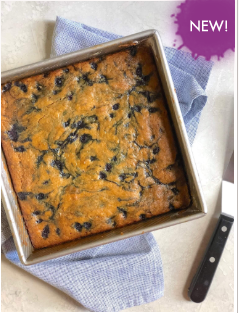 Ingredients
1 1/4 cup whole-wheat pastry flour
Zest of 1 lemon
1/2 teaspoon ground cinnamon
3/4 teaspoon baking powder
3/4 teaspoon baking soda
1/4 teaspoon kosher salt
1 egg
½ cup pure maple syrup
1/3 cup olive oil
1/2 cup plain Greek yogurt
1 teaspoon vanilla extract
1 cup frozen wild blueberries (not defrosted)
Preparation
Preheat oven to 350 degrees F
Put the flour, lemon zest, cinnamon, baking powder, baking soda, and salt into an 8-inch square baking pan. Use a fork to thoroughly mix the ingredients together.
Use your hands to make a hole in the center of the dry ingredients. Into the hole, crack the egg and add the maple syrup, olive oil, yogurt, and vanilla. Use a fork to mix the ingredients together until smooth and blended, being sure to get all the bits of flour in the corners of the pan.
Add the wild blueberries and mix them a few times into the batter so they are evenly distributed, and the cake has a marbled effect.
Bake until the cake is fairly firm when you press lightly at its center and a toothpick inserted in the middle comes out clean, about 38 minutes.
Remove from oven and leave on the counter to cool for at least 15 minutes. Cut into squares and use a small spatula to lift the pieces from the pan.

Wild Blue is Good for You!