Roasted Chicken with Wild Blueberry Onion Sauce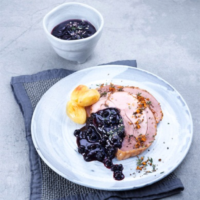 Ingredients
8 chicken thighs, bone-in, skin on
2 tbsp. (30 ml) olive oil
2 tbsp. (30 ml) fresh thyme leaves, reserving some for garnish
zest of 1 orange
2 onions, finely diced
5 cups (500 g) small potatoes, peeled
pinch of cayenne pepper
1½ cups (300 ml) chicken stock
1 tbsp. (15 ml) olive oil
1 cup (150 g) frozen wild blueberries, defrosted
1-2 tbsp. (15-30 ml) agave syrup
Salt and pepper to taste
Preparation
Place chicken thighs, oil, thyme and orange zest in a large freezer bag.  Massage ingredients together, place in fridge to marinate for a minimum of ½ hour, maximum overnight.
Preheat oven to 375° F.  Place chicken thighs, onions and potatoes in one layer in a roasting dish.  Season with cayenne, salt and pepper.  Place in oven for approximately 40 minutes until chicken is cooked through and potatoes are fork tender.
Remove chicken and potatoes, place on platter and tent with foil to keep warm.
Place roasting dish on stove over high heat.  Add chicken stock, bring to a boil and reduce by half.
Add wild blueberries and agave syrup, stir to combine.  Spoon around chicken and potatoes, garnish with thyme and serve.

Wild Blue is Good for You!