Salmon Filet with Wild Blueberry BBQ Sauce and Sweet Potatoes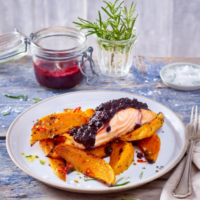 Ingredients
1 1/4 pounds sweet potatoes
1 red chili pepper
4 sprigs rosemary
6 tbsp. oil
Salt
Pepper
2 onions
2 cloves garlic
2 cups frozen wild blueberries
1/2 cup plus 2 tbsp apple cider vinegar
2 tsp. prepared mustard
1/2 cup ketchup
4 tbsp. maple syrup
4 filets of Alaska wild salmon, skin off
Parchment paper
Preparation
Preheat the oven to 400° F (convection oven: 350° F).  Peel the sweet potatoes and cut into wedges.  Cut open the chili pepper lengthwise, remove the seeds and slice into rings.  Wash the rosemary and pat dry.  Remove the needles from the branches and chop.
In a large bowl, mix 4 tbsp oil, chili slices, rosemary, salt and pepper.  Add the sweet potatoes to the herb-chili oil and stir to coat.  Arrange on a baking sheet.  Bake for around 15 minutes.
Peel and cube the garlic and onions.  Heat 2 tbsp oil in a pot and cook the garlic and onions until translucent.  Add the wild blueberries, vinegar, mustard, ketchup and syrup, and cook for around 10 minutes until thick.  Puree the sauce.  Season with salt and pepper.
Wash the salmon and pat it dry.  Put a sheet of parchment paper on a baking sheet.  Place the salmon on the baking sheet and brush it on all sides with the wild blueberry BBQ sauce.  Put the sheet in the hot oven with the sweet potatoes and bake for around 10 minutes.  After five minutes, baste the salmon with the sauce again.  Take the salmon and potato wedges out of the oven and arrange on a platter.  Pour the rest of the blueberry BBQ sauce over the salmon.

Wild Blue is Good for You!