Salmon Salad with Wild Blueberry Dressing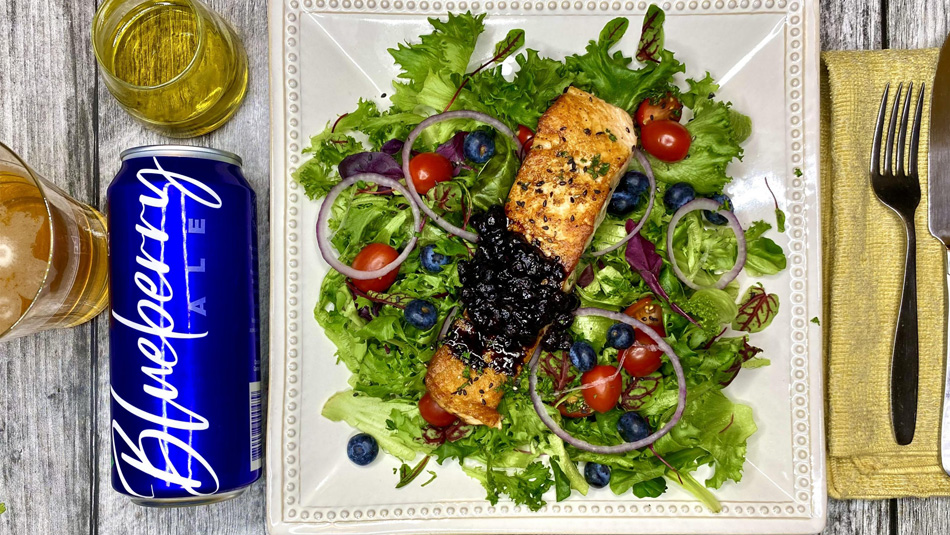 Ingredients
2 Atlantic salmon fillets
8 cups of local salad mix
1 red onion sliced in rings
1/2 cup (125 ml) of baby tomatoes
1/4 cup (60 ml) of wild blueberries for the salad
Olive oil
Salt and pepper
Garlic clove
Fresh rosemary or thyme
Tablespoon of butter
Dressing:
3/4 cup (180 ml) of balsamic vinegar
1 tablespoon (15 ml) of local honey
1 cup (250 ml) of frozen wild blueberries
Preparation
Season salmon with salt and pepper. Get your best pan hot (cast iron works best). When pan is hot, add olive oil then add salmon. It's important that the oil and the salmon heat up at the same time. Add garlic and fresh herbs to the pan plus add butter. Spoon butter on top of filets, flip and spoon butter on the other side till salmon is cooked. Cook until internal temp reaches 135 degrees.
In a medium saucepan add dressing ingredients. Heat on medium to low until reduced in half, about 20 minutes. Keep an eye on it until the end of cooking to prevent burning. Lightly mash any remaining whole berries. The dressing will thicken as it cools.
Plate adding the salmon and the dressing to your dish. You can add a little olive oil as well if you need.

Wild Blue is Good for You!