Stuffed Acorn Squash with Farro and Wild Blueberries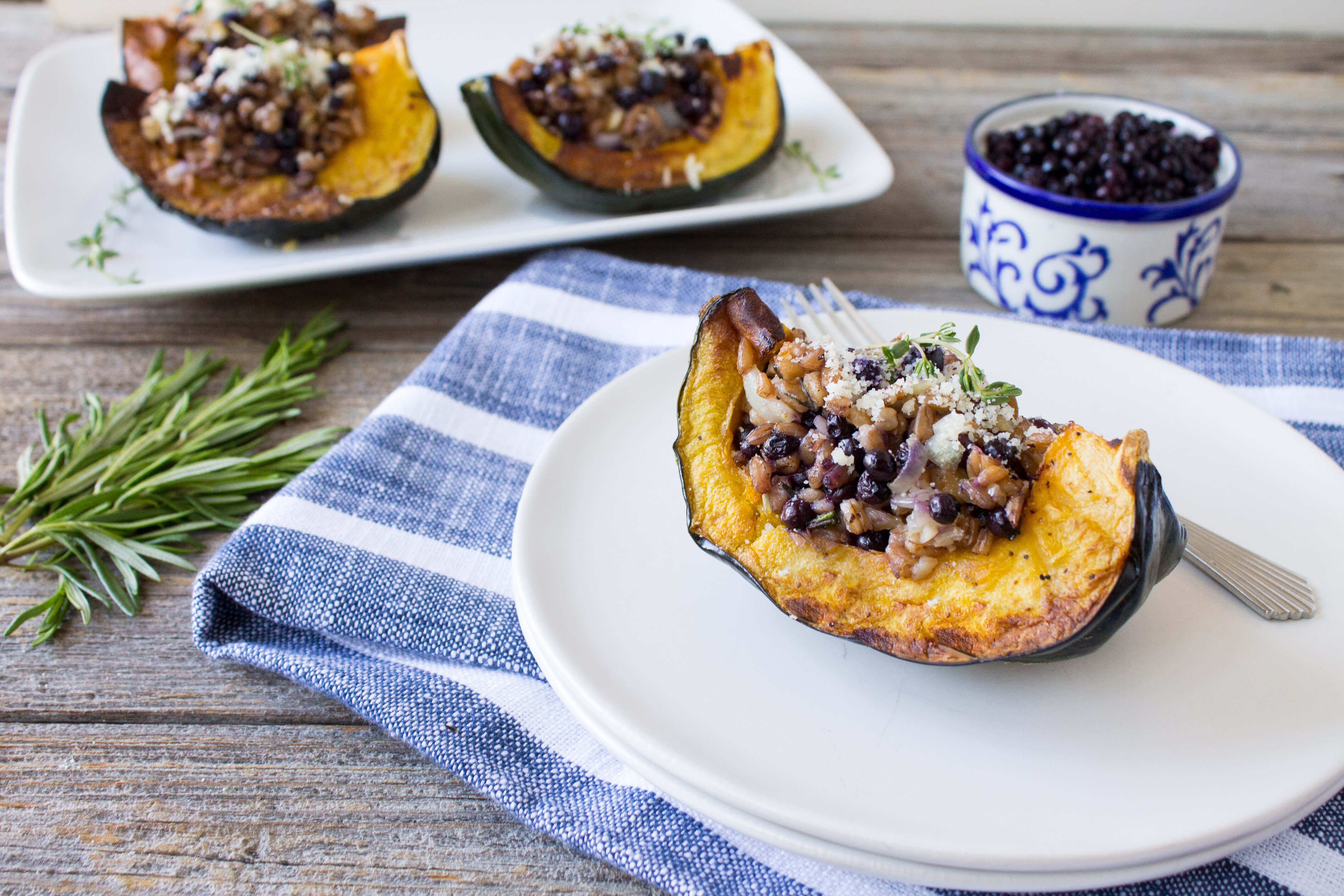 Ingredients
2 large acorn squashes, quartered and seeded
2 tsps (10 ml) olive oil
1/2 tsp (2.5 ml) salt, divided
1/2 tsp (2.5 ml) pepper, divided
2/3 cup (165 ml) farro
2 cups (500 ml) vegetable stock
1 tbsp (15 ml) olive oil
1/2 cup (125 ml) diced onion (approximately 1/2 medium onion)
1 medium garlic clove, minced
1/2 tbsp (7.5 ml) chopped fresh thyme
1/2 tbsp (7.5 ml) chopped fresh rosemary
1/4 cup (60 ml) chopped walnuts
1 cup (250 ml) frozen wild blueberries, thawed and drained
1/2 cup (175 ml) grated Parmigiano Reggiano
Preparation
Preheat oven to 190°C (375° F).  Brush squash with olive oil and sprinkle with ¼ teaspoon salt and pepper.  Place squash cut side down on a lightly sprayed baking sheet and bake for 40-50 minutes, or until fork-tender.
Add farro and vegetable stock to a medium saucepan and bring to a boil.  Reduce heat to a simmer, cover, and cook for approx. 30-40 minutes, or until farro is chewy but no longer tough.  Drain excess liquid.
In a sauté pan, add olive oil over medium heat.  Add onions and let cook for about 5 minutes, or until translucent.  Add garlic and let cook for another minute.  Stir in cooked farro.  Remove from heat.  Add in thyme, rosemary, walnuts, wild blueberries, ¼ teaspoon salt and pepper.
Fill squash with approx. ¼ cup farro mixture.  Reduce oven temperature to 160°C (325°F).  Bake for another 15 minutes, or until filling is heated through.  Top with Parmigiano Reggiano.

Wild Blue is Good for You!