Stuffed Mediterranean Peppers with Wild Blueberries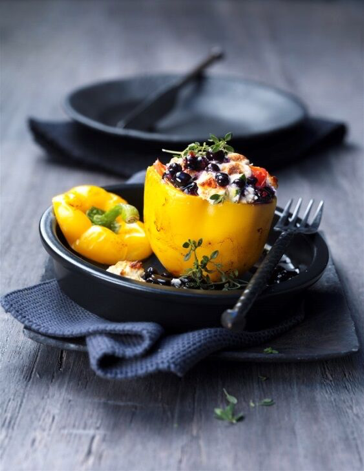 Ingredients
4 large peppers, tops removed and reserved, seeds discarded
1 egg, whisked
⅓ cup (80 ml) sour cream
1 cup (250 ml) feta cheese, crumbled
5 sprigs thyme, leaves picked
1 sprig rosemary, leaves picked
1 clove garlic, minced
⅓ cup (80 ml) zucchini, diced
¾ cups (175 ml) tomatoes, diced
⅓ cup (80 ml) mushrooms, diced
1 cup (250 ml) frozen wild blueberries, defrosted and strained
1 cup (250 ml) Parmigiano Reggiano, grated
Salt and pepper
Water for bottom of baking tray
Preparation
Preheat the oven to (350°F) (175 °C) and line peppers on bottom of baking dish.
In a large bowl, mix egg, sour cream, feta, herbs and garlic together. Add remaining vegetables, ¾ of blueberries and season with salt and pepper.  Mix to combine.
Stuff peppers with vegetable mixture, top with grated Parmigiano and remaining blueberries. Place cap of pepper on top.
Cover and bake until peppers are tender and vegetables are cooked, approximately 45 minutes – 1 hour, removing foil half way through baking.

Wild Blue is Good for You!