Tandoori Chicken Skewers with Wild Blueberry Fig Sauce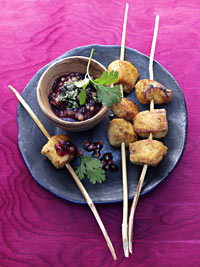 Ingredients
Blueberry Fig Marmalade (Ingredients for approx. 4 jars containing 300 ml each):
2 packages wild blueberries, frozen
500 ml jam sugar (2:1)
3 fresh figs
1 organic orange's zest
Tandoori Chicken Sticks with Lentil Blueberry sauce:
1 ½ lb chicken breast
1 pack Tandoori Tikka (Indian marinade)
¼ cup (60 ml) low-fat yoghurt
1 tbsp (15 ml) vegetable oil
Salt to taste
Small pieces of wood
For the sauce:
2 tbsp (30 ml) red lentils
100 ml water
4 tbsp (60 ml) blueberry fig marmalade
1 pinch of salt
1 pinch of pepper
1-2 stems of coriander
Preparation
Blueberry-Fig-Marmalade:
Stir together frozen blueberries and jam sugar in a pot. Rinse and chop figs. Add figs and orange zest to the pot. Cook marmalade according to the direction on the package.
Tandoori Chicken Skewers:
Chop chicken breast in bite-sized chunks. Stir together Tandoori Tikka and yoghurt and mix in chicken chunks. Cover and let marinate for at least 1 hour.
Heat vegetable oil in a coated pan. Drain marinade from chicken and cook in hot oil for 5-6 minutes. Salt chicken and place on the wooden pieces.
Put lentils into a small pot and add water. Cover pot and boil for 3-4 minutes until lentils are soft; add marmalade and stir. Season with salt and pepper. Rinse coriander, pick the leaves from stem, mince and stir into sauce. Skewer chicken chunks and combine with lentil blueberry sauce.
Serves 4
Preparation time for Blueberry Fig Marmalade approx.: 15 minutes
Preparation time for Tandoori Chicken Skewers: 30 minutes + waiting time
Nutrition
Calories:123
Fat: 1g
Cholesterol: 30 mg
Sodium 130 mg
Carbohydrate :14g
Protein:14g
Fiber: 1g

Wild Blue is Good for You!