Veggie Sticks with Ricotta Wild Blueberry Dip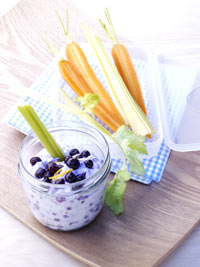 Ingredients
2 stalks of celery
3 carrots
¼ cup (60 ml) partly-skimmed Ricotta (cream cheese as an alternative)
2 tbsp (30 ml) crumbled Gorgonzola
1 tbsp (15 ml) wild blueberry juice
1 pinch grated orange peel
Freshly ground pepper
½ cup (125 ml) wild blueberries
Preparation
Wash and prepare celery and carrots. Cut both in sticks and transfer to container.
Mix Ricotta and Gorgonzola with wild blueberry juice. Season with grated orange peel and pepper. Gently stir in blueberries. Transfer sauce to container.
Dip veggies into wild blueberry sauce and enjoy for lunch at the office or include in a picnic basket. Serve with baguette or rolls if desired.
Serves 1
Preparation time: approx. 15 min.
Nutrition
Calories: 351
Protein: 17 g
Carbohydrates: 43 g
Fat: 14 g
Cholesterol: 44 g
Sodium: 737 mg

Wild Blue is Good for You!