Venison Medallions with Sautéed Apple Slices and Wild Blueberry Sauce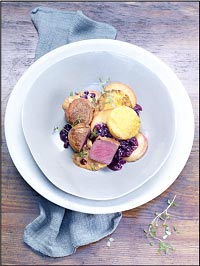 Ingredients
½ bunch of thyme
1 ½ lb saddle of venison
1 ½ tbsp (20 ml) butter
2 red apples
salt and pepper
wood skewers
Wild Blueberry Sauce:
2 tbsp (30 ml) onion, minced
1 tsp (5 ml) garlic, minced
salt and pepper
1 cup (250 ml) red wine
1 cup (250 ml) rich beef broth
¾ cup (180 ml) frozen wild blueberries
¼ cup (60 ml) currant jelly
Preparation
Sauté onions and garlic in butter, season with salt and pepper and let simmer for 5 minutes. Add wine and beef broth and reduce to one cup. Add frozen wild blueberries and currant jelly and simmer, stirring occasionally for 5 minutes. Remove from heat and cool slightly.
Wash venison, dab dry and cut into 12 equally sized medallions. Fix with skewers. Heat 1 tbsp. clarified butter in skillet. Sear medallions from all sides 3-4 minutes and season with salt and pepper. Remove medallions from pan, keep warm.
Wash apples and rub dry. Remove cores and cut into slices. Heat ½ tbsp. of butter and sear the apple slices, approx. 3 minutes. Serve venison medallions with apple slices and wild blueberry sauce. Garnish with fresh thyme leaves.
Serves 4
Preparation time: approx. 30 minutes
Nutrition
Calories: 414
Carbohydrate: 32 g
Protein: 409 g
Fat: 9 g

Wild Blue is Good for You!