Wild Blueberry Baselito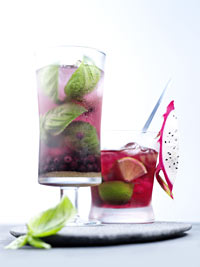 Ingredients
4 basil leaves
2 tsp (10 ml) cane sugar
2 tbsp (30 ml) sparkling water
¼ cup wild blueberries, frozen
2 tbsp (30 ml) fresh lime juice
1/5 cup (35 ml) light rum
1 basil stem
2 wild blueberries on a swizzle stick to garnish
Preparation
Combine basil leaves and cane sugar into a Caipirinha glass (short) and add sparkling water. Mix ingredients lightly with pestle.
Add wild blueberries, crush and mix a second time.
Fill the glass two-thirds full with crushed ice and add lime juice and rum and stir thoroughly.
Thread wild blueberries onto a small skewer. Decorate glass with wild blueberry swizzle stick and basil leaves if desired.
Note: Without rum, this makes a delicious non-alcoholic drink
Nutrition
Calories: 130
Fat: 0
Cholesterol: 0
Sodium: 0
Carbohydrate: 10 g
Protein: 0
Fiber: 2 g

Wild Blue is Good for You!