Wild Blueberry Bat Cookies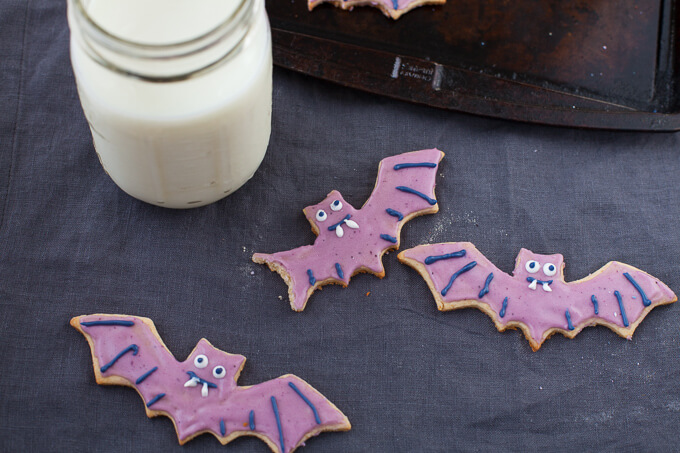 Ingredients
For the cookies:
1 cup (250 ml) sugar
1 egg
1/2 cup (125 ml) unsalted butter, softened
1/4 cup (60 ml) plain Greek yogurt
3 tsp (15 ml) vanilla extract
1 ½ cups (375 ml) sifted white whole-wheat flour
1 ¾ cups (430 ml) sifted all-purpose flour
½ tsp (2.5 ml) baking powder
For the wild blueberry icing:
3/4 cup (180 ml) frozen wild blueberries
1 ½ cups (375 ml) sifted powdered sugar
2 tbsp (30 ml) plain Greek yogurt
1 tbsp (15 ml) butter, softened
1/4 tsp (1 ml) vanilla
Preparation
For the cookies:
In a stand mixer or large mixing bowl, add sugar, egg, butter, Greek yogurt and vanilla and beat or mix on low until combined.
In a separate medium bowl, mix flours and baking powder until combined. Slowly add dry ingredients to wet and mix until just combined.
Form cookie dough into two rounds, wrap in plastic wrap and refrigerate for at least 30 minutes and up to overnight.
Preheat oven to 230° C (450° F).
Remove dough from refrigerate and let sit at room temperature until softened.
Roll out dough onto floured surface until 1/4 –inch thick. Use a bat-shaped cookie cutter to make cut-outs.
Place cut-outs onto ungreased baking sheet and bake for 5-6 minutes, or until they have just set and gained some colour. Let sit on baking sheet for one minute and transfer to wire rack to continue cooling.
For the wild blueberry icing:
Heat wild blueberries in a small saucepan over medium-low heat, stirring frequently, for about 8-10 minutes, or until thickened. Use an immersion blender to blend to a thick puree.
Strain wild blueberry mixture using a cheesecloth or fine mesh sieve.
In the meantime, add powdered sugar, Greek yogurt and butter to a stand mixer or large bowl. Beat or mix on low until combined.  Add vanilla and 1 teaspoon (5 ml) wild blueberry strained puree and mix to combine.
Decorate cooled cookies with icing and let dry before serving or adding other layers of icing for decoration.

Wild Blue is Good for You!