Wild Blueberry Cake Pops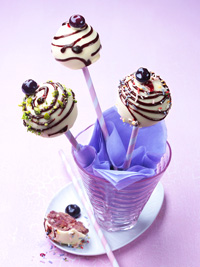 Ingredients
Ingredients for 50 servings:
For the pink layer:
1 store-bought vanilla/pound cake
¼ cup (60 ml) Van Dyk's wild blueberry juice
½ cup (125 ml) low fat cream cheese
2 cups (500 ml) white chocolate, melted
½ cup (125 ml) icing sugar
2 tbsp (30 ml) colored sprinkles
2 tbsp (30 ml) pistachios, chopped
50 frozen wild blueberries, defrosted for garnish
50 lollypop sticks
1 Styrofoam block
For the purple layer:
¾ cup (180 ml) frozen wild blueberries
1 banana, cut into coins, and frozen
1 tbsp (15 ml) hemp seed hearts
¾ cup (180 ml) unsweetened coconut milk beverage or non-dairy milk of choice
Optional Toppings:
Frozen wild blueberries
Hemp seed hearts
Preparation
Place cake in a blender and pulse until crumb consistency.
Combine 2 tablespoons of blueberry juice and cream cheese and stir in the cake crumbs until dough forms.
Form small balls and place in fridge to set.
Place melted chocolate in a glass. Dip lollypop sticks into melted chocolate, adhere them into the cake balls. Place Cake Pops in Styrofoam then chill in refrigerator for 30 minutes.
Mix powdered sugar with remaining blueberry juice. Place mixture in a piping bag or plastic freezer bag.
Place sprinkles and pistachios into two small bowls.
Remove Cake Pops from fridge and dip each one in melted chocolate. Allow them to drip, then place in Styrofoam block.
Dip each of the Cake Pops in desired toppings and allow to dry. Cut a hole in the corner of freezer bag with blueberry icing and pipe icing to decorate lollypops.
Garnish each Cake Pop with one blueberry and enjoy, or place in fridge until serving.
Tip: If you don't have a styrofoam block, you can use floral foam or drinking glasses.
Preparation Time: 1 hour 20 minutes. Cooling Time: 2 hour
Nutrition
Energy: 74 cal
Protein: 1 g
Fat: 4 g
Carbohydrates: 10 g
Fiber: 1 g

Wild Blue is Good for You!