Wild Blueberry Cheescake Tart with Nut Crust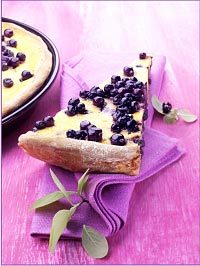 Ingredients
4 ounces (120 g) melted butter
¾ cup (90 g) walnuts (or almonds, or pecans)
1½ cups (180 g) all-purpose flour
½ cup (100 g) sugar
1 cup (140 g) frozen wild blueberries
12 oz. (360 g) cream cheese, softened
3 eggs, large
¾ cup (150 g) sugar
1½ teaspoons vanilla
Preparation
For crust:
Preheat oven to 300° F (200° C).  In a food processor bowl, finely grind nuts.  Add sugar and pulse to mix.  Add flour and mix thoroughly.  Add melted butter through the food chute and pulse until  thoroughly blended.  Place nut mixture in  a 15" springform tart pan.
For filling:
Beat eggs until thick and lemon colored. Beat in sugar, cream cheese and vanilla until smooth and pour over crumb mixture.  Sprinkle one cup of frozen wild blueberries on top of cheese mixture.
Bake for 35 to 40 minutes until filling is set. Remove from oven and let cool.  Serve with whipped cream if desired.
Serves 10
Preparation time: approx. 30 minutes plus cooling time
Nutrition
Calories: 406
Carbohydrate: 37 g
Protein: 8 g
Fat: 27 g

Wild Blue is Good for You!