Wild Blueberry Cheese Dip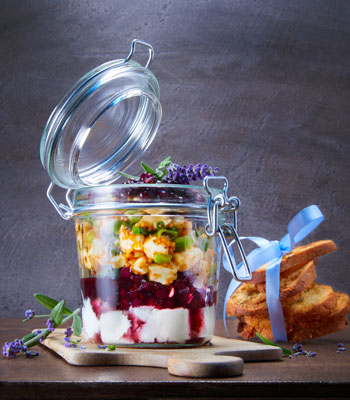 Ingredients
1 1/2 cups (375 ml) wild blueberries
1 tbsp (15 ml) cornstarch
2 tbsp (30 ml) sugar
1 tsp (5 ml) vanilla extract
1 oz (20 g) fresh ginger
1/2 tsp (2.5 ml) red pepper flakes
2 rounds of camembert, approx. 4 oz (125 g) each
1 tsp (5 ml) sweet paprika
1 pinch cayenne pepper
black pepper, freshly ground
2 green onions
1 roll soft goat cheese, approx. 7 oz (200 g)
2-4 sprigs of lavender
16 very thin slices of baguette
4 tbsp (60 ml) olive oil
1 tsp (5 ml) dried oregano
Preparation
Drain wild blueberries, reserving the juice. Mix cornstarch with 3 tbsp (45 ml) of the wild blueberry juice until smooth.  Put remaining juice in a heated pan with sugar and vanilla.
Peel skin from ginger and dice finely. Add ginger and chili flakes to pan and bring to a boil.  Thicken with cornstarch mixture.  Add wild blueberries and allow to cool.
Slice camembert into ½" cubes and carefully mix with whole-grain mustard, paprika, cayenne and black pepper. Slice onions into thin rings and add to camembert.
Cut goat cheese into thick slices and then into halves. Distribute evenly among the jars.  Add a layer of wild blueberry compote and then carefully place camembert on top.  Top with another layer of compote.  Garnish with lavender.
Preheat oven to 375° F (190° C). Line baking sheet with parchment paper.  Spread out slices of bread evenly on baking sheet and drizzle olive oil on top.  Bake for approx. 12 minutes, sprinkle oregano over the baguette and bake for another two minutes until bread is golden brown.  Allow to cool.
Serve immediately, or stack baguette chips on top of each other and tie with a ribbon or kitchen twine to present with the cheese dip as a gift.
Nutrition
Calories: 258
Protein: 9 g
Fat: 12 g
Carbohydrates: 25 g

Wild Blue is Good for You!