Wild Blueberry and Cherry Sour Cream Crumble Tart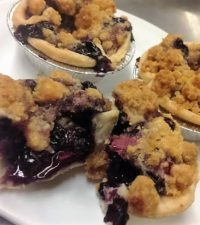 Ingredients
Pastry for 24 tarts
2½ cups (625 ml) frozen wild blueberries
1½ cups (375 ml) sour cherries (halved)
Filling:
1 cup (250 ml) sour cream
1½ tbsp (23 ml) flour
1 cup (250 ml) sugar
1 teaspoon (5 ml) lemon zest
1 tablespoons (15 ml) lemon juice
Topping:
1 cup (250 ml) flour
1 cup (250 ml) brown sugar
½ cup (125 ml) butter
Preparation
Using either your favourite homemade or store bought pastry, roll and form 24 tart shells in aluminum tins or standard sized muffin tins.
Topping:
Barely melt butter in microwave (30 sec.) or stove top.
Using your hands mix together flour, brown sugar and butter until a soft crumble forms. Set aside.
Filling:
Mix together sour cream, flour, sugar, lemon juice and zest until creamy and smooth.
Add fruit to sour cream mixture and combine.
Divide fruit/cream mixture evenly among all 24 tart shells.
Divide crumble topping onto the top of each tart.
Bake at 350° F for 45 minutes. Crumble should be golden and juices thickened.
Note: The tarts may overflow while cooking. To avoid a mess in the oven place your tart shells/muffin pan onto a cookie sheet.

Wild Blue is Good for You!