Wild Blueberry Coconut Smoothie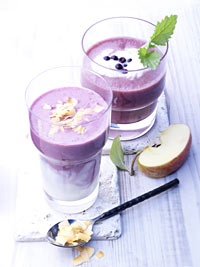 Ingredients
3 cups (750 ml) wild blueberries, frozen
1 ½ cup (375 ml) canned coconut milk, chilled
4 tbsp (60 ml) brown sugar
1 piece of fresh ginger (walnut sized)
Garnish:
1 teaspoon (5 ml) roasted, grated coconut
Preparation
Add ¾ cup (coconut milk and brown sugar to blender. Peel ginger and grate into coconut milk and sugar mixture. Partially defrost wild blueberries in microwave (60 seconds), add to blender and puree at highest speed.
Pour the remaining coconut milk into four glasses and add blended mixture carefully. Stir to create a marbled white and blue mixture. Garnish with roasted and grated coconut if desired. Serve immediately.
Serves 4
Preparation time: approx. 5 min.
Nutrition
Calories: 280
Fat: 20 g
Cholesterol: 0
Sodium: 15 mg
Carbohydrate: 29 g
Protein: 2 g
Fiber: 5 g

Wild Blue is Good for You!