Wild Blueberry Cream Puffs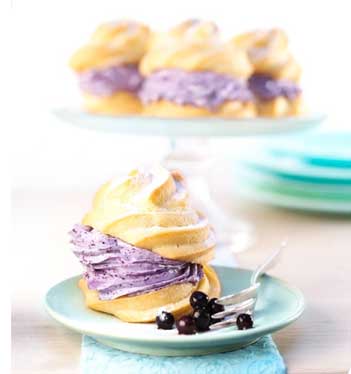 Ingredients
¾ cup (175 ml) water
¼ cup (60 ml) unsalted butter
pinch of salt
1 cup (250 ml) all-purpose flour, sifted
3 eggs, room temperature
3 cups (750 ml) frozen wild blueberries, defrosted and strained
¼ cup (60 ml) granulated sugar
2 tbsp (30 ml) lemon juice
1 cup (250 ml) mascarpone, room temperature
Optional topping:
Preparation
Bring water, butter and salt to a boil in a small pot. Add flour all at once and stir with a wooden spoon until mixture transforms into a little ball. Transfer mixture into a bowl and beat in the eggs one at a time.
Place dough in a pastry bag with a star tip. Pipe 5 cm balls on lined baking tray leaving space between each of the cream puffs. Bake in preheated oven for about 25 minutes.
Puree 1/3 of the blueberries with sugar and lemon juice. Stir in mascarpone and chill in the fridge.
Before serving, cut cooled cream puffs in half horizontally. Fill with mascarpone mixture and remaining blueberries. Garnish with candied lavender and serve.

Wild Blue is Good for You!