Wild Blueberry Crostata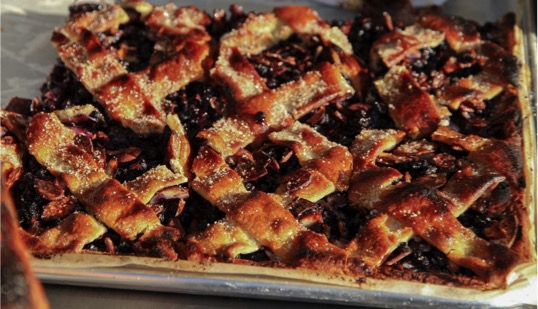 Ingredients
300g pie dough
100g almond butter
200g pastry cream
200g wild blueberries
Preparation
Butter and flour an 8 inch tart shell pan.
Reserve 40g of pie dough, and roll out the rest to 1/8 " thickness.
Lay pie dough in tart pan, press and trim off excess dough.
Add almond butter and smooth out with offset spatula.
Add pastry cream and smooth out with offset spatula.
Top the pastry cream with wild blueberries.
Roll out the remaining pie dough, on floured surface, and cut into strips.
Finish crostata with cross hatched lattice strips.
Freeze until ready to bake.
Egg wash and top with a sprinkling of sugar.
Bake at 375F for 45 minutes.

Wild Blue is Good for You!