Wild Blueberry Daifuku Mochi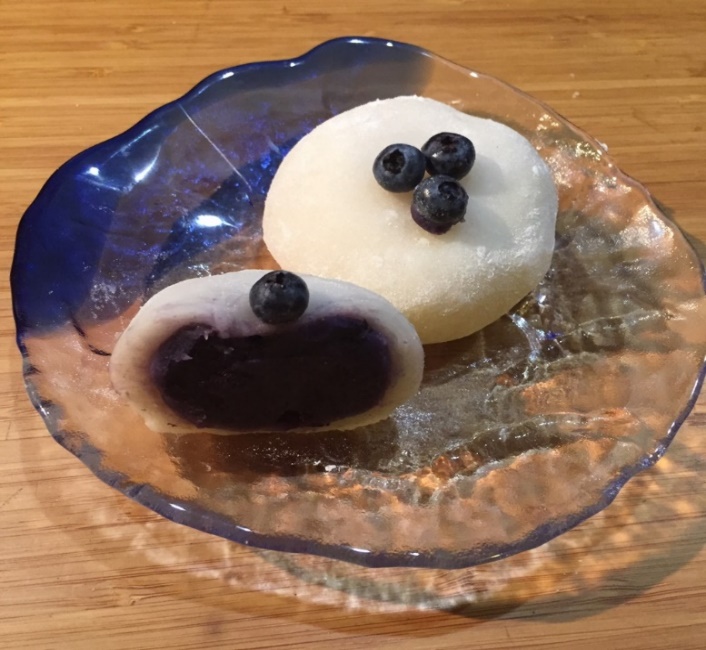 Ingredients
1 cup wild blueberries
1 cup lima beans
1/2 cup brown rice syrup
1/2 cup cane sugar
Salt 1 tsp
Dough:
1-1/2 cups glutinous rice flour
3/4 cup cane sugar
1/2 cup water
Preparation
Filling:
Wash & soak beans (~12 hours), strip off skins.
Place the beans in a pot with enough cold water, bring it to a boil in moderate heat.
When it starts boiling, add 3/4 cup of cold water. Again, bring it to a boil, and again, add another 3/4 cup cold water.
Let the beans cook in moderate heat for about 25 minutes, and discard any foam.
Strain the beans twice with a colander lined with a cheese cloth.
Add the brown rice syrup, sugar, and salt.
Return the pot to moderate heat.
Blend the beans with a hand blender to make a smooth paste; stir the paste constantly.
Add wild blueberries.
Dough:
Mix the rice flour, sugar and water in a bowl. Transfer the paste to a cloth (30 mins)
Transfer the hot mochi onto a surface dusted with potato starch, and let it cool.
Cut the paste into very small pieces, about 1/4 cup each.
Brush off the excess starch from each piece.
Flatten each piece with your hands into a thin circle.
Carefully use each circle to wrap a ball of bean paste and pinch it to close.

Wild Blue is Good for You!