Wild Blueberry Lemon Scones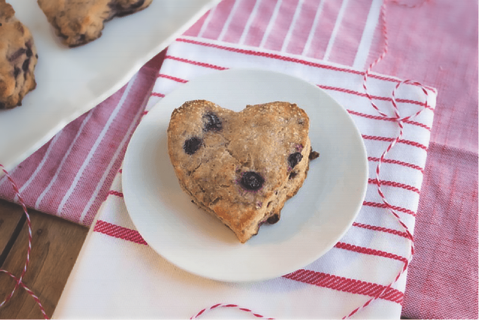 Ingredients
2 cups (500 ml) whole wheat pastry flour, plus more for dusting
1 tbsp (15 ml) baking powder
¼ tsp (1 ml) salt
3 tbsp (45 ml) sugar, plus more for sprinkling
4 tbsp (60 ml) coconut oil
frozen zest of one lemon
½ cup (125 ml) plain Greek yogurt
⅔ cup (150 ml) milk, plus more for brushing
1 tsp (5 ml) vanilla extract
1 cup (250 ml) frozen Wild Blueberries
Preparation
Heat oven to 425°F (220°C). Line a baking sheet with parchment paper or a silicon baking mat.
Combine whole wheat pastry flour, baking powder, salt, and sugar in a large bowl.
Add the coconut oil and cut with a fork until the oil is in pea-sized pieces.
In a separate bowl, combine the lemon zest, Greek yogurt, milk, and vanilla.
Add the wet ingredients to the dry ingredients and stir until combined.
Stir in the frozen Wild Blueberries, then pat the dough out onto a floured surface into a ½ inch (1,25 cm) thick circle.
Cut the dough into 8 wedges or cut with cookie cutters. Place the scones on the prepared baking sheet, brush with a small amount of milk, and sprinkle lightly with sugar.
Bake for 15-18 minutes, until the edges of the scones are browned and the centers spring back when touched.

Wild Blue is Good for You!