Wild Blueberry Marble Cake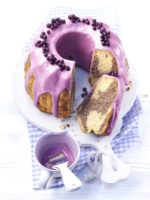 Ingredients
1½ cups (200 g) frozen wild blueberries
1 cup (250 g) soft butter
1½ cups (225 g) sugar
1 teaspoon vanilla
½ teaspoon salt
4 eggs, large
3 ½ cups (450g) flour
4 teaspoons baking powder
8 ounces (240 ml) 2% milk
1 cup (120 g) icing sugar
Preparation
For the cake:
Defrost ¾ cup wild blueberries and purée. Set aside.  Preheat oven to 375°F (175°C).  Have all ingredients for cake at room temperature.
Cream butter and add sugar gradually. Continue to beat until smooth and creamy.  Add eggs one at a time, beating well after each addition.  Combine flour, salt and baking powder and sift into batter mixture alternately with milk.  Divide batter into two batches.  Stir puréed blueberries into one half of the batter, mixing well.
Grease and flour a Bundt cake pan. Pour white batter into pan, then add wild blueberry batter.  With the end of a wooden spoon, gently draw swirls through the batter to marbleize.  Bake 50 -55 for minutes.
Remove cake from oven and let cool for approximately 10 minutes before removing from pan. Place cake on a wire rack and let it cool completely.
For the icing:
Defrost remaining ¾ cup of wild blueberries. Separate juice from berries, pressing gently.  Mix powdered sugar with blueberry juice until smooth and consistent in color.  Cover cake with frosting and decorate with remaining wild blueberries when the frosting starts to dry.
Serves 16
Nutrition
Calories: 379
Carbohydrate: 53.5 g
Protein: 5.73 g
Fat: 15.6 g

Wild Blue is Good for You!