Wild Blueberry Mini Muffins
Makes 22-24 muffins
Eat a few of these muffins with a glass of milk with the kiddos after naptime/workout.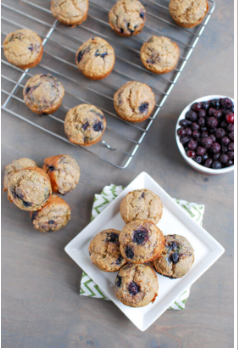 Ingredients
1 egg
3 tbsp butter, melted
¾ cup vanilla yogurt
1/3 cup sugar, plus extra for sprinkling
1/3 cup almond butter (or your favorite nut butter)
1 tsp cinnamon
1 cup flour (minus 2 Tbsp)
½ tsp baking powder
½ tsp baking soda
¾ cup frozen wild blueberries
Preparation
Combine first 5 ingredients in a bowl and mix well.
Add cinnamon, flour, baking powder and baking soda and mix until just combined.
Stir in wild blueberries.
Spoon into well-greased mini muffin tins.
Sprinkle with sugar and bake at 375 degrees F for 18 minutes.

Wild Blue is Good for You!