Wild Blueberry Pie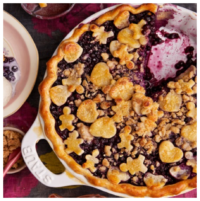 Ingredients
1 single crust or double crust pastry dough
6-8 cups frozen wild blueberries
1/2–3/4 cane sugar
3 tbsp. cornstarch
Juice of half a lemon
1 tbsp. pure vanilla extract or scraped seeds of 1 vanilla bean
Pinch salt
Optional flavourings: 1 Tbsp orange or lemon zest, 1 tsp ground cinnamon, 1/4 tsp ground nutmeg, 2 tsp grated fresh ginger or 1/4 tsp ground allspice
1 tbsp. butter
For double crust: 1 egg, beaten, for egg wash
Preparation
Preheat oven to 400°F.
Roll out 1/2 of pie dough into a 12-inch circle then refrigerate dough in pie plate while preparing fruit filling.  Place all prepared fruit into large bowl. Toss with sugar, cornstarch, lemon juice, vanilla, salt and any other additional flavourings.  Let sit for 15 minutes.  If making double crust pie, roll out second disk at this time.
Fill pie crust in plate with fruit and any juices. Dot with butter.
Cover with second crust, trimming any overhang more than 1/2 inch beyond lip. Tuck double overhang underneath itself, flute edges or use fork to crimp.  Make sure you provide at least one vent by making a few slits with a knife.  Brush with egg wash.
Place pie on baking sheet to prevent any bubbling fruit from dripping. Bake 20 minutes then, reduce heat to 350°F, and continue to bake an additional 20 minutes or until juices are bubbling and crust is golden.  Transfer to a wire rack for at least 1 hour to cool before serving.

Wild Blue is Good for You!