Wild Blueberry Poke Bowl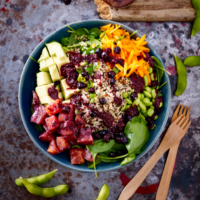 Ingredients
6 cups frozen wild blueberries
10 oz. frozen edamame
1 cup tricolor quinoa, rinsed
2 tsp. chili paste
2 tsp. soy sauce
6 tsp. sesame oil
2 tsp. raw sesame seeds
6 tsp. rice vinegar
1.25 lb. sashimi grade skinless salmon
3/4 lb. carrots, peeled and grated
1/2 lb. (5 cups) baby spinach
2 green onions, thinly sliced
2 avocados, diced
Preparation
Defrost wild blueberries and edamame.
Cook quinoa as per package directions. Set aside to cool.
In a blender, puree wild blueberries with chili paste, soy sauce, sesame oil, sesame seeds and rice vinegar until smooth.
Wash salmon, pat dry, and cut into 1/2" cubes. Pour half of the wild blueberry marinade on the salmon and marinate for 15 minutes.
In the meantime, prep all your vegetable ingredients and portion quinoa and vegetables into four bowls. Portion out marinated salmon.
Sprinkle with remaining wild blueberries and drizzle remaining blueberry marinade on the top.

Wild Blue is Good for You!